Falklands' students reminded of dangers of 1982 minefields laid by Argentina
Thursday, July 14th 2011 - 18:07 UTC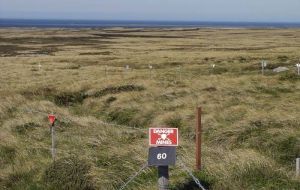 Falkland Islands students were reminded this week of the dangers of the 30 year old minefields, laid by the Argentines, surrounding the capital Stanley, when British forces' experts visited the Infant and Junior School and the Community School.
The minefields are a legacy of the 74 day invasion and occupation by Argentine forces of the Falklands in 1982. It is estimated that over 15.600 (12.300 antipersonnel and 3.300 anti-vehicle) Argentine laid mines remain in the Falklands according to a report delivered by Lord Astor of Hever, UK Parliamentary Secretary of State, Defence, last February.
Two members from the Joint Service Explosive Ordnance Disposal, JSEOD, unit, stationed at Mount Pleasant carried out the mine awareness training which is done on a regular basis among Falklands' children.
Sgt Hemmingway and Chief Tech Gauci provided the students with general mine field information, mine recognition and some basic "dos and don'ts" should they find themselves in difficulty. Following this they explained their roles and what assistance they provided in the event of being called out to assist people, or remove suspected mines.
Head Teacher of the Senior School, Helen Bell said it was important to maintain the close link with JSEOD despite their recent move. "Even though they have moved to MPC from Stanley it is good to see that their services are still fully available to the local community," she added.
In the aftermath of the 1982 conflict over 1.000 Argentine anti-personnel, 80 anti-vehicle mines and 1,000 booby traps were cleared in 30 minefields. In 2009/2010 a pilot project cleared a further four minefields of 1,246 (678 anti-personnel and 568 anti-vehicle) mines.
The 18,000 mines estimate (14,000 anti-personnel and 4,000 anti-vehicle) were laid by the Argentine armed forces in some 113 minefields during the conflict according to Lord Astor.
Regarding all UK-emplaced mines in five anti-personnel minefields around the then RAF Stanley "they were lifted immediately after the cessation of hostilities. One Elsie C3 anti-personnel mine is unaccounted for".
The JSEOD teams which are now based at MP Complex for 29 years, since the end of the conflict, were stationed in Stanley and in that period provided ordnance disposal having dealt with over 2.8 million items of ordnance from bullets, flares and grenades to rockets, mortar shells and 1000lb bombs. (PN, FIRS, MP).