IMF assessing quality of Argentina's economic data reporting
Thursday, July 14th 2011 - 22:18 UTC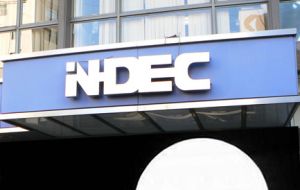 IMF said on Wednesday that it is assessing the quality of Argentina's reporting on economic data based on a report presented by the fund's management which recently visited the country member.
"Given the obligations of all member countries to provide accurate data to the IMF, on July, 13 2011, the Executive Board met to consider a report presented by Fund management on the quality of reporting by Argentina of its official data on Consumer Price Index for Greater Buenos Aires (CPI-GBA) and Gross Domestic Product (GDP)", said the short release from the Fund's headquarters.
The credibility of Argentina's data, especially inflation, has been questioned ever since former President Nestor Kirchner replaced long-serving staff at the national statistics agency Indec with political appointees in 2007. Almost overnight, official data started to diverge from private sector estimates.
The IMF executive board said it welcomed a commitment by the Argentine authorities, working with IMF staff, to improve the quality of the country's reporting of inflation and growth data and bring them into compliance with fund rules.
"The Executive Board welcomed the commitment recently made by the Argentine authorities to work closely with IMF staff to improve the quality of Argentina's reporting of the CPI-GBA and GDP data, so as to bring data reporting into compliance with the obligations under the Articles of Agreement and to implement appropriate measures based on discussions already underway with staff", added the release.
Another board meeting is expected within 180 days to assess the progress made and "decide on any necessary measures, based on recommendations from staff".
An IMF technical assistance mission visited Argentina earlier this year to help the government design a new consumer price index amid widespread distrust of official inflation data.
The government of President Cristina Kirchner, Nestor Kirchner's widow and successor, regularly denies it manipulates economic data.
In recent months, the Kirchner administration has launched a crackdown against private sector economists aimed at silencing criticism of its inflation data.
The government has fined a number of economists and even filed criminal charges against one research firm for publishing what the authorities say are data intended to mislead the public.
Most private sector estimates put annual inflation north of 20%, while the government's CPI shows inflation at just below 10%.
Kirchner's decision last year to ask the IMF to help Argentina build a new CPI followed years of hostility toward the organization. Kirchner has long vilified the IMF, whose free-market policies in the 1990s, she says, crippled Argentina's industrial sector and contributed to its 100 billion dollars sovereign-debt default in 2001.
The IMF and Argentina have also been at odds over the latter's refusal to submit to a periodic review of its economic policies, a so-called Article IV surveillance consultation, that is required of all IMF member nations.
This position has delayed Argentina's negotiations with the Paris Club to reach an agreement on approximately 7.5 billion dollars of pending country to country debt.