Chavez to receive cancer treatment in Sao Paulo, say Brazilian government sources
Friday, July 15th 2011 - 06:31 UTC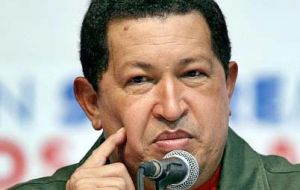 Venezuelan President Hugo Chavez will travel to Brazil for cancer treatment, a Brazilian government source told reporters, following his return home after an operation in Cuba.
Chavez will come to Brazil's Sirio-Libanes hospital, known for treating cancer, for help battling the illness, according to the source. No timeline has been set for his arrival, the source added.
There was no immediate confirmation from Caracas. Asked if Chávez would go to Brazil for treatment, a high-ranking Venezuelan government official said: "I don't know."
Chavez's announcement that he had cancer shocked the country of 29 million people and upended the OPEC nation's politics, which he has dominated for 12 years. It raised questions about whether Chavez will be able to run for re-election next year.
He has not specifically said what type of cancer he has only that he underwent surgery in the pelvic region. He has also said he may have to receive chemotherapy.
The Sirio-Libanes hospital is considered one of the best in Latin America and is renowned for its cancer treatment centre.
Brazilian president Dilma Rousseff, before she was a candidate, had cancer treatment there as well as Paraguayan President Fernando Lugo and Brazilian Vice President Jose Alencar was treated there over a decade before he died earlier this year.