British Airways: 'World's favourite airline' grows in South America
Tuesday, July 19th 2011 - 05:48 UTC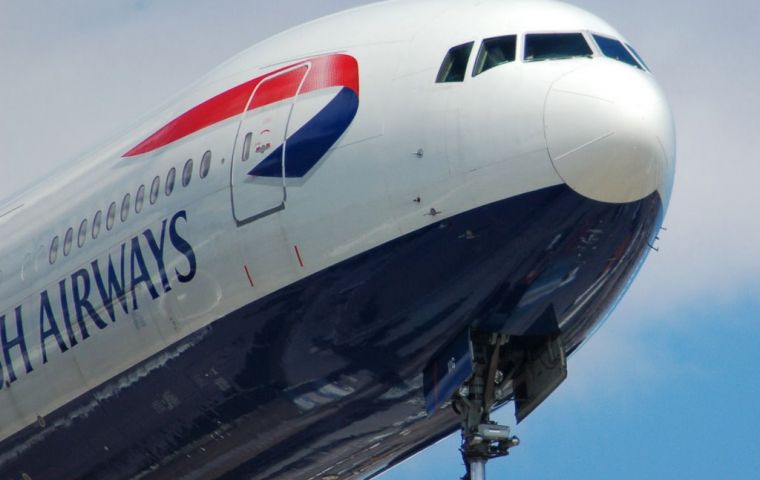 Over sixty five years ago, British South American Airways (BSAA) began flying to South America. The flights, which began in March 1946, were via Lisbon, Bathurst, Natal, Rio de Janiero and Montevideo, before landing in Buenos Aires, 35 hours later. The aircraft: an Avro Lancastrian. How times have changed.
Sixty-five years on, the airline has become British Airways and non-stop flights join the two cities together in thirteen hours, in the latest Boeing 777s.
The start of the daily, direct, non-stop flights between Buenos Aires and London, ended a nearly decade long break in them. They have begun with exceptionally good results, the airline's manager in Buenos Aires, Florencia Scardaccione told Mercopress.
During the six and a half decades British Airways has flown to Argentina and neighbouring countries the airline has had its ups and downs. In the booming 90s and under the 1 peso to 1 dollar policy of Carlos Menem's presidency there were flights via Rio de Janiero, which gradually became more frequent until daily, direct, non-stop flights linked Buenos Aires and London. Numerous local ground staff and crew were hired and the airline was thriving in Argentina.
Following the terrorist attacks in the United States in 2001, which affected the airline industry so badly; the collapse of the Argentine economy in 2002 and general worldwide economic difficulties the airline decreased the number of flights here, but continued to operate just with fewer flights and more stops. Whilst British Airways downsized, numerous other European airlines ceased their air links.
"We had a minimum operation and times were very hard," says Scardaccione. "It was very difficult when we had a minimum number of flights. In 2002 we began three flights a week via Sao Pablo, but a lot of people thought British Airways had left the country as there were no longer direct flights. It was difficult to maintain our presence, but there was always a demand for flights, in spite of the crises. Fortunately, Argentine clients are very faithful to British Airways," continues Scardaccione.
The daily flights carry 208 passengers in World Traveller, 30 in World Traveller Plus and 42 in Club World. There is no First Class service available and this is for two reasons: The fact that there was no aircraft available to fly the route equipped with First Class and also that these days there is not much demand for it.
"Our strong categories are economy and Club, and if we had First Class seating we would lose out on non-premium seating," explains Scardaccione. In the first month of the new flights the airline had an "amazing, 91% occupancy rate in economy and Club classes," she continues.
"Before the direct flights (with flights from Argentina stopping in Brazil) we were like two countries competing for seats on a bus," quips Scardaccione.
Demand for British Airways flights in Brazil is extremely high too and the airline currently operates ten flights a week to London, seven from San Pablo and three from Rio de Janiero, which will be increased to six later this year as there is "good demand and prices," says Scardaccione. When Brazil and Argentine were competing for seats on the aircrafts we were losing out as we didn't have room for everyone, now we do and we are doing very well," she adds.
The airline currently has no flights to Colombia or Chile but "Latin America is one of the growing markets and is constantly being analysed" says Scardaccione.
"Now through our association with Iberia we are able to offer seats to places British Airways doesn't fly to and we complement one another very well," she outlines "this is beneficial to passengers in Uruguay, Paraguay and Chile as our possibilities have been extended," she adds.
Although the non-stop, direct flights between Buenos Aires and London are still in early stages the first month showed that the airline had duplicated its market share with an extraordinary occupancy rate. "Now isn't high season and all we did was start flights, there was no marketing," says Scardaccione proudly. "Our expectations were more than met and there is scope for this to continue."
The airline has had tremendous growth in short haul flights from London to other European destinations, since the new flights commenced. "Now we have direct flights to London and no stopover in Sao Pablo, we can compete with other airlines.
Passengers fly to London and then connect to other European cities. This has increased by over 100% and not just people going on holiday but people going on business trips and to congresses," Scardaccione outlines. "Now, we are a stronger player in this option, and we can compete with other European airlines and have had immediate results."
Argentina is one of the five cities in the world supplying the airline's flights with local crew members. Thailand, India, China, Brazil are the others and it is hoped, in the not too distant future, with the new flights more local crew members will be hired.
Also on the cards for the not too distant future, is sharing an office with Iberia as the airline will start doing around the world. In Argentina this might lead to customer service for local passengers "which is good for this culture and market as customers like to visit an office and make their travel arrangements with a person, as opposed to on the phone with a call centre," explains Scardaccione.
British Airways is currently working with the Argentine tourist board to promote Argentina as a tourist destination in the United Kingdom commencing with an advertising campaign on flights this month.
The company slogan for many years has been the "world's favourite airline" and it definitely seems to be right in this part of the world, where the airline continues to expand and reach more and more people and fly them around the globe.