Jewish community complains lack of progress in AMIA bombing investigation
Tuesday, July 19th 2011 - 05:01 UTC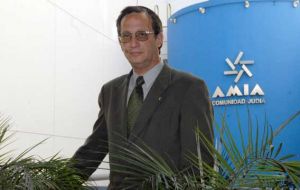 Seventeen years after 85 people died and hundreds were injured in Argentina's worst terrorist attack, their relatives criticized both Iran and their own government Monday for failing to solve the case.
Speaking at a ceremony on the anniversary of the 1994 attack on a Jewish community centre, family members complained about the lack of progress in bringing those responsible to justice by politicians who have condemned the attacks.
"Such hypocrisy is sickening" said Sergio Burstein, who represents relatives of victims in the bombing of the Argentine-Israeli Mutual Association.
As President Cristina Fernandez listened silently in a cold winter rain outside the rebuilt community centre, Burstein called on Iran to turn over the seven of its citizens accused of organizing the bombing.
But he also turned his anger at the investigative failures of Argentina's police, courts, intelligence and politicians. He said families are furious at the "impunity, corruption, complacency, lies and hypocrisy" that has characterized the case.
Burstein pointed to Carlos Menem, Argentina's president at the time of the 1994 attack. Menem is charged with interfering in the probe by steering investigators away from a businessman friend who was implicated in the attack and, like Menem, has deep family ties to Syria.
Menem has been a senator since leaving the presidency, so is immune from pre-trial detention. "If this were a respectable country, this man would have a seat, but in prison," Burstein said.
AMIA President Guillermo Borger was among other Jewish leaders who questioned why the investigation hasn't led to Argentines who might have been involved, other than one man who provided a van allegedly used in the attack.
"Seventeen years for searching without a result are too many. We can't keep waiting," Borger said.
Borger thanked President Cristina Fernández for attending the ceremony although he affirmed "it is not enough" and asked for "immediate justice".
In his speech, Borger also blasted pro-government picketers' leader Luis D'Elía, who had repeatedly supported Iranian officials who were explicitly accused in the investigation. D'Elía funded by the Cristina Kirchner administration alleges the attack was "a plot masterminded by Israel and the Mossad".
Borger said next year will be "18 years without justice" and "18 is a special number which in Hebrew means life and the moment to say enough to death. This ceremony today is a blow to forgetfulness. To reach justice, we need the truth now".
Most of Argentine cabinet members were at the ceremony together with leaders from the opposition and City of Buenos Aires authorities.
On the eve of Monday's anniversary of the attack, Iran made an offer to Argentine Foreign Minister Hector Timerman characterized as "an unprecedented and very positive step." Iran, which denies its citizens were involved, said it is preparing its own report on the bombing and wants to begin a dialogue with the Argentines to help solve the case.
The Iranian overture was dismissed as hypocritical by the prosecutor in the case, Alberto Nisman, and Argentine Cabinet Chief Anibal Fernandez said "there's no negotiating with terrorism."
"The only way out is through justice" Fernandez said, adding that Argentina's foreign ministry will need to study just how far Iran is willing to go.