New alternative route to Antarctica in Chile to cut fuel and sailing hours
Tuesday, July 19th 2011 - 17:20 UTC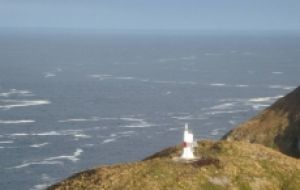 A new alternative commercial route to Antarctica from the Chilean city of Punta Arenas avoiding the Beagle Channel and saving several hours sailing has been opened by the Chilean navy with the establishment of a state of the art lighthouse.
The beacon with a 16 nautical miles Racon signal was built in one of the small rocky islets in Cook Bay opening the way to the Thomson canal which can save 50 nautical miles avoiding the Beagle channel.
"The new lighthouse in the highest point of the Sandwich islets group is four metres high and 64 metres above sea level. It has an 8 nautical miles luminous range signal, a Racon with a range of 16 nautical miles besides an AIS-Aton. This equipment makes it the most modern of its kind in Chile", said the Chilean navy release.
The beacon with a cost of 150.000 dollars was set up in a record ten days with the support of the icebreaker "Oscar Viel", the support vessel, "Hallef" and a naval helicopter.
The new alternative route to the west of the Beagle channel along the Thomson canal will enable cruises, merchant and fishing vessels and icebreakers heading for Antarctica to save several hours sailing and a major exposure to the extremely adverse conditions of the Drake Passage
According to naval sources the three days sailing it takes the icebreaker "Osvaldo Viel" to reach Chilean Antarctic bases (Puerto Fildes or Arturo Prat) from Punta Arenas could be cut by eight hours.