Parts of Chilean Patagonia covered by nine feet of snow; 6.500 feared isolated
Thursday, July 21st 2011 - 10:04 UTC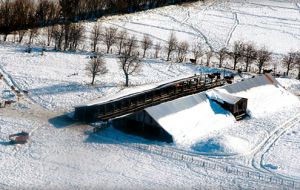 President Sebastián Piñera declared much of La Araucania in Chilean Patagonia, disaster areas on Wednesday, as four days of non-stop snowfall have isolated the region's predominantly rural communities and wreaked havoc on basic utilities.
"The government has resolved to help those affected, especially those living in Lonquimay," Piñera said on Wednesday. "We declare the zone a disaster area in order to give us greater tools to help our fellow Chileans."
Lonquimay, the borough with the second most extensive area in Chile, was affected by a polar front that submerged the town of just over 10,000 into chaos.
Intermittent since Sunday, the snowfall has piled as high as nine feet in some areas. Although this part of the country is no stranger to the cold weather, Piñera described the current polar front as the worst the region has seen in 30 years.
Mayor Guillermo Vásquez told local press on Wednesday that temperatures had plunged to -23 degrees Celsius (-9.4 degrees Fahrenheit) in some of the more rural areas.
According to El Mercurio, sub-zero temperatures have frozen pipes, leaving most of the city without water.
Radiators were also reported to be shorting out and even the fuel in some vehicles' gas tanks was frozen. The same source described the wave as taking a toll on local firewood supplies.
Moreover, help sent from authorities beyond the storm front has been stalled in delivery due to snow-covered roads. La Segunda reported 400 boxes being sent by the regional government to Lonquimay but only 25 reaching their destination.
"In four days we have had four months worth of snowfall," said Regional Governor Miguel Mellado in an interview with Canal 13. "We've got a very difficult situation here."
With 70% of the population living in rural areas, Governor Miguel Mellado estimated that 6,500 people were isolated as a result of the storm. The communities declared as part of the disaster area are: Lonquimay, Curralehue, Melipeuco, Curacautín, Pucón, Cunco, Vilcún and Villarrica.
By Ivan Ebergenyi – The Santiago Times