International press blasts Ecuadorian court libel suit ruling on freedom of expression
Friday, July 22nd 2011 - 02:04 UTC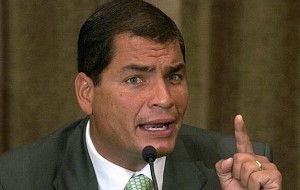 The International Press Institute (IPI) blasted an Ecuadorian court's decision to jail a journalist and three executives of critical opposition daily El Universo for libeling President Rafael Correa, and to impose 40 million dollars in fines against the defendants and the newspaper.
A court in Guayaquil on Wednesday sentenced columnist Emilio Palacio and the three executives to three years in prison stemming from Palacio's 6 February, 2011 article questioning an army raid to rescue Correa from striking policemen last September. The court also fined the four defendants a total of 30 million, and fined the newspaper 10 million.
The Associated Press reported that attorney Alembert Vera, who represented Correa, praised the ruling as a blow in favor of responsible journalism.
"From now on any citizen can demand that their good name and honor be respected, which is true freedom of expression," he said.
Palacio told reporters that the sentence was "a monstrosity" and he vowed to appeal.
IPI Director Alison Bethel McKenzie said: "We are outraged by the court's sentence, and we condemn it as completely out of proportion to the 'crime' committed. Civil remedies are both sufficient to deal with allegations of defamation and more in line with international standards that correctly call for the least restrictive sanctions in such cases. The excessive nature of Wednesday's sentence demonstrates the continuing need in Latin America and around the world to eliminate archaic – and illegitimate – criminal defamation laws."
Bethel McKenzie also criticized Correa's decision to pursue the matter through criminal proceedings, commenting: "As president, he has placed himself squarely in the public eye. Leaders must be open to both praise and criticism. You can't have the glory without the headaches."
Palacio's 6 February article, titled "No to the Lies", referred to Correa as "the Dictator" and it insinuated that the president was guilty of crimes against humanity for having "ordered discretionary fire – without prior notification – against a hospital full of civilians and innocent people" during a 30 September police revolt over government plans to cut police benefits.
Officers protesting the cuts tear-gassed Correa after he confronted them, and they trapped him inside a police hospital which they surrounded for more than 12 hours. Soldiers rescued the president, but several people were killed or injured in the unrest, which Correa has insisted was a coup attempt.
Correa has had a rocky relationship with the press since he first took office in 2007, referring to journalists on multiple occasions as "irresponsible", "corrupt" and "assassins of ink". In March, he filed a 10 million lawsuit against two investigative journalists based on their book investigating contracts between Correa's brother and the state.
The president also upset press freedom advocates this year when he added to a 7 May 12 points referendum a proposal to create a government council to regulate media content, and to bar "private national media companies, executives, and main shareholders" from holding assets in other companies. The measure – supposedly aimed at curbing "media excesses" – was approved by voters.