Brazil a "dysfunctional country" according to the Norwegian mass killer
Wednesday, July 27th 2011 - 03:56 UTC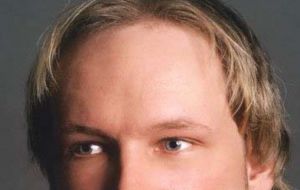 The Norwegian mass killer Anders Behring Breivik, 32, makes reference to Brazil as a 'dysfunctional' county in his document "A European Declaration of Independence- 2083", which was published in Internet.
According to Breivik, because of the "Brazilian Marxist revolution", Brazil has become a mix of races which has turned into a "catastrophe" for the country, forcing it to join the ranks of the "second world" with a very low rate of social cohesion.
As a consequence of this mix of races, corruption levels are very high; productivity extremely low and there is on going conflicts among the different cultures. This leads Breivik to describe Brazil as a "dysfunctional country".
The report also mentions an accident several decades ago in the state of Goiana involving the mishandling of radioactive Caesium-137; the coup of 1964 and military rule which lasted until 1985, --and had the complicity of Washington-- and the proclamation of the Brazilian republic in 1889, when the Emperor Dom Pedro II decided to liberate slaves and he was ousted by the coffee barons.
The "European Declaration of Independence" has 1.518 pages and includes instructions as to how make bombs as well as long diatribes against Islam and Marxism.
Breivik endorses "the use of terrorism as a mechanism to awaken the masses" and admits he will be remembered as the "greatest Nazi monster since World War II".
The manifesto also reveals that the attack had been planned since autumn 2009.
Breivik is described as a Christian fundamentalist suffering of Islam-phobia and politically extreme right. In his manifesto he anticipates that he will appear in court in uniform and make a strong, long defence of his beliefs.
Geir Lippestad, defendant of Breivik says his client admits his crimes "were atrocious, but necessary" and should not be punished for them. Lippestad has described Breivik as 'totally insane'.