One officer and 3 civilians killed during eviction of a landsite in north Argentina
Friday, July 29th 2011 - 07:25 UTC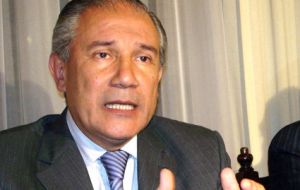 A shootout between police and civilians in Argentina's northern province of Jujuy left one officer and four protesters dead plus more than 30 injured, after clashes occurred during the eviction of more than four hundred families from a land site.
Jujuy Governor Walter Barrionuevo announced he had fired the responsible for the police raid that led to the violent eviction. The governor assured it during a press conference held at the provincial Government House, along with the head of the Lower House of Congress, Eduardo Fellner, and the current ex Government Minister, Pablo La Villa.
Barrionuevo said he had removed the head of the Regional Cuatro Unit, Néstor Vera.
Earlier, Jujuy's Senator Gerardo Morales from the opposition confirmed the death of a fourth person who was hospitalized in the intensive care unit.
The police officer who was killed, identified as Farfán -aged 23- was shot with a firearm during the eviction of families from a 15-hectare land site, which had been ordered by the court.
Jujuy SAME Ambulance Emergency Service director, Juan Carlos Menichetti confirmed that "there are four confirmed deaths, with the first victim being taken to hospital at 9.50 am this morning. At 12.30 two others were taken in with shot wounds".
Five minutes later, another person who was in bad conditions was received with a shot in his skull and died.
The opposition Radical Party legislator assured that there were 73 injured and that 36 were transferred to the hospitals in the area. Morales confirmed that the four deaths were caused by shot wounds.
Another twelve officers were reported to have been shot, however with minor injuries.
The local Mayor, Jorge Ale, told the press that the conflict began when the Police tried to evict the families from the land that belonged to the Ledesma company.
Contrary to reports the director of the Jujuy CCC social movement (Classist Combative Current), Enrique Mosquera confirmed this afternoon that the resistance against the eviction from the Libertador San Martín land site was carried out with "rocks and stones", not with guns.
"Nobody was armed. We defended ourselves with rocks and stones, throwing them and then leaving," said Mosquera in various press interviews.
The Blaquier family, the owner of the land, had denounced there were squatters last week, but on Thursday the police evicted the area.