President Cristina Fernandez "disregards and looks down on the rural sector"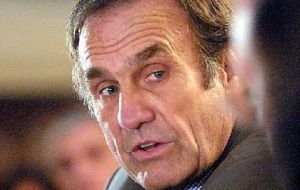 A respected reference in Argentine politics, Senator Carlos Reutemann came out strongly this week in support of farmers saying that the government of President Cristina Fernandez de Kirchner, (CFK), "disregards and looks down on the rural sector".
The current Senator and former governor comments follow on Sunday's elections in the province of Santa Fe, which surprised the national and provincial governments when a last minute maverick candidate, a comedian by profession and with no political machinery was almost elected governor of Argentina's fourth most important electoral district.
"Even though the anger that the farming sector has with the national Government is not the same it had in 2008, during the conflict of the hike of export duties, the farming sector' certainly doesn't agree with the Government," said Reutemann.
Santa Fe province is one of Argentina's largest soybean producers. In the height of the conflict with farmers in 2008, President Cristina Kirchner claimed the "oligarch farmers" were reaping extraordinary windfall earnings harvesting the 'weed' soybean. Santa Fe is also an intensive farming province where the land is fairly evenly distributed and with a strong industrial structure in support of advanced agriculture.
The former Santa Fe Governor said that the province' residents "punished" both the national government and current Socialist Governor Hermes Binner with their votes.
Binner backed candidate Antonio Bonfatti won the elections with a very small margin over PRO candidate Miguel Del Sel, while the third in dispute from President Cristina Fernandez de Kirchner "Victory Front" Agustín Rossi, ended in a distant third place with just 22% support.
Reutemann also came out in defence of Miguel Del Sel who has been criticized for not belonging to the political establishment. "There's not a line in the Constitution that prevents you from running for office if you are not in politics".
Ironically he added that if that was not the case the Constitution would read something like "to run for office you must be tall, blonde or have a degree from Harvard, but the Constitution does not say a word".
Reutemann, a Santa Fe farmer, but also a former Grand Prix pilot in the seventies and eighties, was invited in the nineties by then President Carlos Menem to get involved in politics.
Days before the Sunday governor-election Reutemann had clearly specified that he is not a "Kirchnerite" but yes a Peronist (the dominant force of Argentine politics).
"My silence all this time does not mean support to Kirchnerirsm; this is not a case of Rossi or not Rossi (the Kirchnerite candidate), but rather Kirchnerism against which together with the Socialists, I had to battle my Senator candidacy in 2009, in defence of farmers and federalism", said the Senator at the time.