Polar front freezes Argentina and Uruguay with below zero temperatures
Monday, August 1st 2011 - 20:40 UTC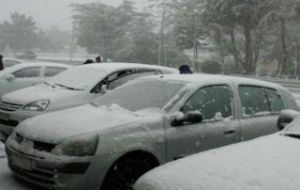 A polar front advancing over Argentina and Uruguay dragged the thermometers Monday morning in yet another freezing day in the south of the continent. Below zero temperatures were registered in several locations reaching minus 16,2 Celsius in Malargüe, Mendoza Province, according to Argentina's Meteorological Service (SMN).
San Rafael, also located in Mendoza, also registered very low temperatures (minus 8 Celsius) as the province's capital Mendoza thermometers reportedly reached 1,8 below zero.
In Uruguay early dawn temperatures dropped to minus 3 Celisus in most of the country particularly in the north.
Other Argentine locations severely hit by the polar front were Buenos Aires province– where in Olavarría thermometers reached -5,2 – Dolores -4, Azul and Pehuajó -2,5 , Tandil -2,4 and Mar del Plata -1,6 respectively. The cold, however, was insensitively felt as the wind chill factor reached dozens of degrees Celsius below zero.
The freezing temperatures were also felt in San Juan, Neuquén, San Luis, La Rioja, La Pampa, Tierra del Fuego, Jujuy, Salta, Córdoba, Tucumán, Chubut and Santa Cruz.
At the City of Buenos Aires temperatures this morning reached 3 degrees, wind chill factor 2.4 degrees Celsius.
The severe weather conditions generated ice and snow in many locations throughout Argentina. A fatal accident, causing the death of three in the province of Santa Fe reportedly was caused by the presence of massive amounts of snow and ice on the route. Authorities alerted the population to be cautious on extreme whether conditions.
The polar front is forecasted to continue for the rest of the week with down peak next Friday morning.