Following weeks of strikes, Chile government open to discuss education reform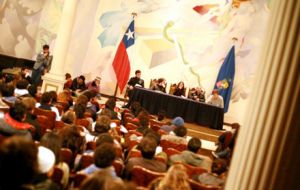 After two months of school takeovers and strikes, marches and more, there may be some light at the end of the Chilean student protests. Chilean President Sebastián Piñera announced on Sunday his willingness and commitment to exploring constitutional change for national education reform—something long demanded by the students.
He called the changes necessary in order for the country "to guarantee quality education for every child and young adult" and said the state must increase its resources to put an end to non-stop protests.
"The marches and the protests have already fulfilled their role; the message is already set in the heart of Chilean society," Piñera told local press. "We have to move forward from diagnosis to solutions, from protest to action."
Constitutional change has been one of the biggest demands of all the students, who have fought for education to be a universal and equitable right for every Chilean.
"According to the Constitution, education today is a right, but it's not guaranteed by the state," Universidad de Los Lagos Student Federation President Patricio Contreras told La Tercera.
A reform in the Constitution also coincides with the central aspects of the Social Agreement of Education, the students' proposal to the government that they submitted to Education Minister Felipe Bulnes last week.
The proposal states that the government "should enshrine education as a fundamental right and a public good, where the state will be responsible for providing it, ensuring compliance with the principles of gratuity, universality and quality in preschool, primary and secondary education."
Universidad de Chile Student Federation (FECH) President Camila Vallejo, meanwhile, said the students want a "clear and transparent view" of the key points in regards to possible constitutional changes.
"We want to know that they're going to guarantee us the right of education because the President said last week that that education is a commodity, which is contrary to all we've understood about education, and our families are also demanding a guarantee," Vallejo told press.
Vallejo said she and the other students will review all of the government's points and discuss them before determining the movement's future. All events already planned—including protests set for Aug. 4 and Aug. 21—will go on as scheduled, she added.
After Piñera made the announcement on Sunday, various government officials, including Senate Vice-President Juan Pablo Letelier, called the announcement an open door to new opportunities in the education debate.
"I listened to the government's willingness to adopt a constitutional reform that had never been proposed before," Letelier told La Tercera. "The state is going to ensure and take responsibility for guaranteeing this fundamental right of quality education that the Chilean youth receive."
Still, one of the movement's key demands is a constitutional amendment forbidding profit in the educational system – a demand that Piñera said the government won't touch The only way of addressing profit would be through the creation of a Super-Intendancy of Higher Education, which would regulate funding of higher education institutions and enforce the 1981 law which prohibits profit in universities.
Student critics and others say owners of private universities triangulate business deals with real estate companies they also own in order to assure large profits on their investments in private universities.
Former Education Minister Joaquìn Lavìn reportedly made a profit of 20 million dollars when he sold his stake in the University of Desarrollo, a private university he helped found, prior to assuming his position at the Education Ministry.
By Nathan Frandino – The Santiago Times