Bank of England adopts 'wait and see' attitude amid world turbulence
Thursday, August 4th 2011 - 22:18 UTC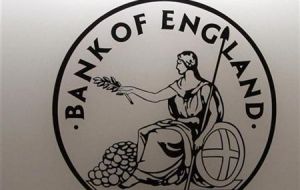 The Bank of England left its main interest rate at a record low 0.50% on Thursday for the 29th month in a row amid weak economic growth in Britain and a debt crisis in the Euro-zone. The quantitative easing QE program was also left stand-by at £200 billion.
"The Bank of England's Monetary Policy Committee today voted to maintain the official Bank Rate paid on commercial bank reserves at 0.5 percent," a statement said.
"The Committee also voted to maintain the stock of asset purchases financed by the issuance of central bank reserves at £200 billion."
Minutes of the BoE's two-day policy meeting will be published on August 17 and include explanations for the decisions. Money markets are not anticipating any realistic chance of a rate hike until the second half of 2012.
Britain's economy, struggling to absorb deep budget cuts, slowed to a trickle in the second quarter, with expansion of only 0.2%, official data revealed last week. Apparently the index was partly affected by the royal wedding on Friday April 29, when many workers were granted a day off by employers to celebrate the marriage of Prince William and Catherine Middleton.
The International Monetary Fund on Monday maintained its growth forecasts for Britain but warned that risks from the Euro-zone debt crisis, spending cuts and volatile commodity prices could demand a change to BoE policy.
The head of Britain's fiscal watchdog said that growth will fall short of the 1.7% forecast in March, in comments that are likely to raise concerns about the government's ability to meet its debt-reduction goals.
The central bank slashed interest rates to 0.50% more than two years ago, in March 2009, when it also launched its radical QE stimulus program that helped drag Britain out of a deep recession.
Under QE, the central bank injected £200 billion of new money into the British economy between March 2009 and February 2010, by purchasing government bonds and high-quality private sector assets.
Some economists argue that more stimuli would fuel Britain's annual inflation rate, which at 4.2% in June is already more than double the BoE's official target of 2%.
Many economists believe the Bank will want to wait to see how the third quarter develops before making any policy change. It will publish updated quarterly growth and inflation forecasts next week that will give insight into its thinking.