Plan in Juan Fernandez archipelago to protect Chilean endangered species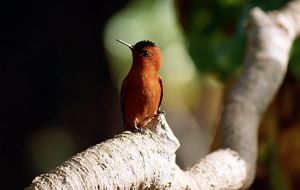 With 131 plant species unique to the Chilean Juan Fernández archipelago, nature enthusiasts and experts sometimes hail the island chain as the Galapagos of flora.
That's not all. The islands in the Pacific 400 miles off the Valparaíso coast also boast three unique species and four sub-species of birds, making it home to 45% of Chile's native birds.
But the diverse ecosystem faces serious threats from invasive species that could decimate native populations, which is why international and national experts launched the Terrestrial Biodiversity Conservation Plan for the Juan Fernández Archipelago.
"We have on this island a unique ecosystem and we are not realizing that" Aarón Cavieres, executive director of the Biodiversity Foundation, told La Tercera. "For that reason, resources and action are needed right now."
The plan will cost 7 million dollars and seeks to protect 20 at-risk plant species from extinction, along with such bird species as the masafuera rayadito, the grey-flanked cinclodes, the Juan Fernández hummingbird, the Juan Fernández tit-tyrant, and various species of petrels.
The archipelago is no stranger to extinctions. Of the seven extinct species native to Chile, six are from those islands. In addition, 62% of the Chile's endangered plant species are from the area and 58% of the country's rare and endangered species are also from Juan Fernández, making it one of the most critical conservation areas in the country.
Cavieres said the conservation effort will need to work hand-in-hand with tourism. He pointed to the planned construction of an aviary and botanical garden "to support the conservation of endemic bird species that serves at the same time as a tourism attraction point."
The organization hopes that by March 2012 they will have received the necessary funding to execute the plan.
By Nathan Frandino – The Santiago Times