China takes over South Africa's Standard Bank network in Argentina
Friday, August 5th 2011 - 01:43 UTC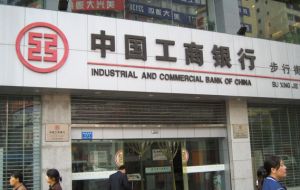 Industrial and Commercial Bank of China Ltd (ICBC) announced Friday it would buy stakes in Standard Bank Argentina and another two institutions from Standard Bank Group Ltd for about 600 million dollars as it expands into South America as part of its global strategy that includes Europe, India and Pakistan.
The deal, which is conditional on approvals from domestic and foreign regulatory authorities, will give ICBC an 80% stake in Standard Bank Argentina and affiliates Standard Investments S.A. Sociedad Gerente de Fondos Comunes de Inversión and Inversora Diagonal Sociedad Anónima, it said in a filing with the Hong Kong bourse.
ICBC said it would buy the stakes from Standard Bank London Holdings Plc (SBL), a unit of Standard Bank Group Limited, and Holding W-S De Inversiones S.A., funding the acquisition using internal resources.
SBL's shareholding in the three institutions will be reduced to 20% on completion of the deal.
"The acquisition of the interest in Standard Bank Argentina would complement the Bank's overseas institutions, strengthen the Bank's branch and business network in Latin America, enhance the Bank's operation capability in America," ICBC said in the statement.
Standard Bank Argentina which is 75% owned by SBL and 25% by Holding W-S prior to the deal, is a full service bank in Argentina offering a diverse range of banking products and services through its 103 branches in Argentina.
Standard Investments -- a fund management company incorporated in Argentina, and Inversora Diagonal -- a commercial service provider before the deal, are 70% owned by SBL and 30% by Holding W-S.
ICBC is the world's biggest bank by market value and deposits and has a 20% stake in Standard Bank of South Africa.
Last March Standard Bank Group CEO, Jacko Maree announced a change of strategy anticipating the bank would concentrate business in Africa, where it is strongest and has greater growth potential, and in China where most of its clients are located, besides its main shareholder.
Standard Bank landed in Argentina in 2007 having taken over BankBoston together with local partners, the Werthein and Sielecki families with interests in telecommunications, finance and pharmaceuticals.
According to the Argentine central bank Standard Bank in March had 10.699 million Pesos in deposits and credits for 7.168 million with a network of 101 branches and 3.400 staff.
In related news ICBC reported that its quintet of European branches, which opened in January this year, are all proving profitable in the first six months of 2011.
The branches, Paris (France), Amsterdam (Netherlands), Brussels (Belgium), Milan (Italy) and Madrid (Spain), have helped ICBC Europe deliver almost 10m dollars profit in the first half of 2011.
In June the ICBC received a business licence from the Reserve Bank of India, enabling it to open a branch in Mumbai. The bank's expansion into India followed the opening of two new branches in Pakistan.