Canadian PM will visit Brazil, Colombia and Central America
Saturday, August 6th 2011 - 08:41 UTC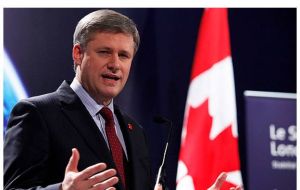 Canadian Prime Minister Stephen Harper will visit Brazil, Colombia, Costa Rica and Honduras from August 8 to 12 to promote trade and investments, reinforce democratic governance and advance common security, according to a release from the PM's office.
PM Harper will be accompanied by: Minister of Foreign Affairs, John Baird; Minister of International Trade, Ed Fast; and Minister of State of Foreign Affairs (Americas and Consular Affairs), Diane Ablonczy. Minister of Public Works and Government Services and Minister for Status of Women, Rona Ambrose, will accompany Harper during his visit to Brazil.
"Our government has focused on expanding and enhancing market access to create jobs, economic growth and opportunities for Canadians. The Americas remain a key region of increasing economic prosperity and entrepreneurialism," said Prime Minister Harper. "Over the next few days, we will continue to further strengthen our economic ties, collaborate on shared areas of security and highlight our many successes to date in this important region".
During PM Harper's third visit to Latin America in July 2007, he announced the Government's strategy "Canada's Engagement in the Americas", focused on democratic governance, economic prosperity and security. In the region, our government has concluded several open skies and free trade agreements.
Harper will begin with his first official visit to Brazil on August 8 and 9, where he will meet with Brazilian President Dilma Rousseff and the Governor of São Paulo State, Geraldo Alckmin. As one of the world's fastest growing economies, Brazil is a major global economic player and a key commercial partner for Canada.
On August 10, Prime Minister Harper will arrive to Colombia and meet with President Juan Manuel Santos. The two countries have longstanding relations which have been strengthened by the signing of a free trade agreement.
On August 11, PM Harper will visit Costa Rica where he will meet with President Laura Chinchilla. Costa Rica is Canada's largest trading partner in Central America and is a partner in many areas, including security and human rights.
The Canadian PM will conclude his trip in Honduras on August 12, where he will meet with President Porfirio Lobo and become the first leader to visit Honduras since its re-admission to the Organization of American States (OAS) in June of this year.