Chilean Patagonia districts in 'agriculture emergency' because of snow storms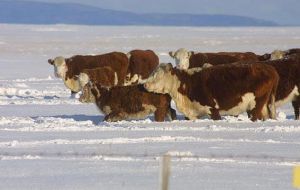 Four districts in the Chilean extreme south region of Magallanes were declared in "agricultural emergency" given the harmful effects of snow storms in the area.
The decision opens the way for funds and logistical support for the population and mostly sheep farms of those districts.
According to the first reports from the different districts an estimated 27.000 sheep and 4.000 cattle are isolated and suffering from lack of food and shelter.
However no families or shepherds are in peril or isolated.
Chilean Minister of Agriculture Jose Antonio Galilea was quoted in Santiago saying he is permanent contact with Magallanes officials in Punta Arenas and if needed, he would fly to the region.
"As Ministry of Agriculture we are alert to the evolution of the terrible weather hitting the region and therefore we are following closely that all the necessary aid is distributed on time, which I'm certain is what is currently happening", said Minister Galilea.
The Minister said local communities can trust that the display of personnel, equipment and supplies will reach all those suffering from the severity of the climate and snow storms.
"We have the necessary logistical support and communications to ensure the mission", said Galilea.