Obama calls for 'political will' to address situation; 'US will always be triple-A'
Monday, August 8th 2011 - 19:52 UTC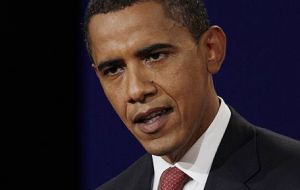 Stock markets extended their heavy losses on Monday despite US President Barack Obama moving to try to reassure investors. In his first public reaction to Standard & Poor's downgrading the US, President Obama said markets continued to regard US government debt as being the highest possible grade.
Yet despite his comments, the main Wall Street share index, the Dow Jones, extended its losses, falling 4%. Earlier, the UK's FTSE ended down 3.4%. Prior to President Obama's speech, the Dow had only been 2.5% lower.
Standard & Poor's downgraded US government debt from AAA to AA+ on Friday.
President Obama said: "Markets will rise and fall. But this is the United States of America.
"No matter what some agency may say, we've always been and always will be a triple-A country."
Mr Obama said he hoped the downgrade would give US politicians "a renewed sense of urgency" in the need to tackle the US deficit and debt.
He called on both Republicans and Democrats on Capital Hill to avoid party-political positioning over the issue. "It is not a lack of plans or policies that is the problem," he said. "It is a lack of political will in Washington, an insistence on drawing lines in the sand. That is what we need to change."
Mr Obama said he would now be putting forward a new plan, including higher taxes for the biggest earners, and reduced spending on Medicare.
Earlier, yields on Spanish and Italian bonds fell sharply after the European Central Bank (ECB) intervened to try to stop the Euro zone debt crisis spreading.
The ECB announcement that it intended to buy up government bonds saw the yield on Spanish 10-year bonds fall from more than 6% to about 5.2% - an indication that investors think it is less risky to lend Spain money. Yields on Italian bonds fell by a similar amount. (BBC).-