Gold soars to 1.700 dollars as world markets are on free-fall fearing recession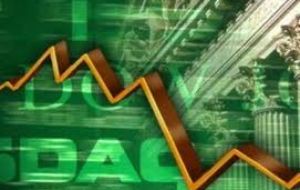 Asian equity markets were sharply down early Tuesday as investors fearing a possible global economic slowdown continued to flee stocks as had happened earlier in Europe, United States and Latin America.
Oil fell below 78 dollars per barrel, toppling to its lowest price of the year on concerns that a slowing global economy could crimp demand for fuel. Gold on the other hand soared to over 1.700 dollars an ounce.
Japan's Nikkei 225 index plunged 4.4% to 8,694.31 in the morning session, while Hong Kong's Hang Seng index plummeted 7.3% to 18,998.51. South Korea's Kospi index plummeted 8.2% to 1,716.05.
Elsewhere, Australia's benchmark S&P/ASX-200 index lost 4.5%; Taiwan's TAIEX dropped 4.9% and New Zealand's benchmark NZX 50 index shed 3.8%.
The losses come on the heels of a rout on Wall Street on Monday, the first trading day since ratings agency Standard & Poor's downgraded American debt.
The Dow Jones industrials fell 634.76 points (5.55%), the sixth-worst point decline for the Dow in the last 112 years and the worst drop since December 2008. Every stock in the Standard & Poor's 500 index declined (6.66%). The Nasdaq index fell even further, losing 6.9%.
Worries about the U.S. economic recovery have been building since the government said that economic growth was far weaker in the first half of 2011 than economists expected. Intensifying concerns were reports showing that the manufacturing and services industries barely grew in July, although job growth was better than economists expected last month.
Investors are also worried that Italy and Spain could become the next European countries to have trouble repaying their debts. Greece, Ireland and Portugal have already received bailout loans because of Europe's 21-month-old debt crisis.
The fears have pushed investors to shun Spanish and Italian bonds, which have led to higher yields and in even higher borrowing costs for the two countries.
The European Central Bank stepped in Monday and bought billions of Euros worth of their bonds. The move helped to lower yields on Spanish and Italian bonds, at least temporarily.
Earlier in the day European markets fell to their lowest in two years: in UK, the main FTSE 100 index lost 3.4%, or 178 points. It was the first time in the FTSE 100's 27-year history that it had fallen by more than 100 points for four sessions in a row. Share indexes also fell heavily across Europe on Monday, with Germany's Dax ending down 5%, while France's Cac lost 4.7%. Spain's Ibex was down 2.44% and in Italy, Milan lost 2.43%.