Inflation in China higher than expected; food prices climb 14.8% in 12 months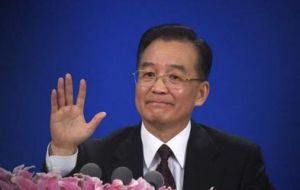 Inflation in China was higher than expected in July, despite a series of efforts by the government to rein in prices. Consumer prices in July rose 6.5% compared with the same month last year, the National Bureau of Statistics said.
The rise comes even as China's central bank has raised interest rates five times since October 2010 in a bid to control prices. Rising consumer prices have become a hot political issue in China.
Food prices, which the bureau has said are likely to hurt low earners the hardest with foodstuffs accounting for more than one-third of the monthly spending of the average Chinese consumer, were up 14.8% in July.
Mounting public anger over rising food and fuel prices has already caused a series of protests this year.
This month, thousands of taxi drivers in the eastern city of Hangzhou went on strike to demand higher fares and in April, truck drivers in Shanghai stopped work over rising fuel costs, disrupting operations at the city's ports.
China's producer price index (PPI) for July, a measure of inflation at the wholesale level, was up 7.5% year-on-year, the NBS said, from 7.1% in June.
Premier Wen Jiabao reportedly admitted in June that it would be difficult to keep inflation within the government's target for 2011 but added that fighting rising prices remained a priority.
Beijing had originally set itself the target of maintaining this year's inflation at 4.0%, but Wen later said it would be possible to keep the level under 5.0% with "hard work".
Chinese authorities have said that controlling price rises is their top priority.
Not only have they raised the cost of borrowing, they have also tried to curb lending in the country by raising the amount of cash banks must hold in their reserves several times in the past 12 months.
However analysts say the current of the global economy may put the authorities in a difficult position. The figures come amid growing concerns about a slowdown in the global economy with a faltering US recovery and growing debt issues in Europe.
Analysts have warned that a slowdown in the US and Europe may hurt growth in export-dependent countries such as China. They said authorities will have to strike a fine balance between trying to rein in prices and ensuring that tight monetary policies do not start to hurt growth.
China's economic growth in recent times has been powered by the success of its export sector. However, there have been calls from economists as well as its trading partners that Beijing needs to rebalance its economy and boost domestic demand in order to sustain its growth.
Analysts said that given the current situation in the US and Europe, China needs to act fast.
"It's time for the Chinese government to relax its policies," said Tang Yunfei of Founder Securities. "It's time for Beijing to announce to the whole world that it will try to stimulate domestic demand again," he added.
China needs to ease its monetary policies in order to boost consumption in the country, say analysts. Mr Tang warned the longer the authorities delay, the more it will hurt China's economy.