London relatively quite with 16.000 police, but rioting extends to other cities
Wednesday, August 10th 2011 - 05:38 UTC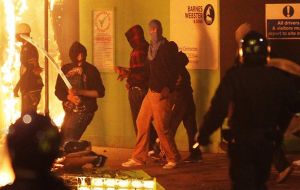 Hundreds of people were arrested as the worst rioting in a generation spread from London to cities across the length and breadth of England.
There were ugly scenes of rioting, looting and violence in Manchester, Nottingham and Birmingham overnight, while trouble also erupted in areas including Liverpool, Salford, West Bromwich, Wolverhampton, Bristol and Gloucester, according to police reports.
A total of 81 people were detained in London as Scotland Yard brought in 16,000 police officers to patrol the streets - bringing the total number of people arrested in the capital since the violence erupted on Saturday night to 768. Of those 167 have been charged, the Metropolitan Police said.
Prime Minister David Cameron is to chair on Wednesday another meeting of the Government's emergency Cobra committee to discuss the continuing unrest that has devastated communities. Parliament will be recalled for a day on Thursday to discuss the developments.
Greater Manchester Police Assistant Chief Constable Garry Shewan said criminals had "brought shame in particular on the streets of Salford and Manchester" after sporadic looting broke out overnight with officers arresting 47 people. Hundreds of masked and hooded youths played cat and mouse with riot police looting shops, smashing windows and starting fires.
West Midlands Police said it had made a total of 109 arrests following scenes of disorder in Birmingham, Wolverhampton and West Bromwich. A murder investigation was also launched after two men were killed and one critically injured in a road traffic collision in Birmingham, West Midlands Police said. The men were pedestrians hit by a car in the Winson Green area of the city at 1am, according to reports.
And in Nottingham a police station and college were firebombed with more than 90 troublemakers arrested, while in Leicester officers arrested 13 people following disturbances in the city centre.
There was also trouble in the south west with police coming under attack from gangs of youths. Police deployed mounted officers to combat groups of youths attacking shop windows, some with their faces covered, in Gloucester city centre on Tuesday night, while a significant fire also broke out in the Brunswick area. Gloucestershire Police said three arrests were made.
In Bristol police arrested 19 people following a second night of trouble. There were also small outbreaks of disorder reported by Thames Valley Police in Reading, Oxford and Milton Keynes, while 200 missile-throwing youths gathered in the south Liverpool area of Toxteth causing disorder and damage, according to Merseyside Police. The force said a total of 35 arrests were made.
London's Metropolitan Police flooded the streets with 16,000 officers - nearly three times as many as were on duty on Monday night - to quash concerns they were losing control of parts of London. On Tuesday night the situation in London appeared calmer than the previous three days. Police said a total of 81 arrests were made across the capital overnight.
On Tuesday and after three nights of violence a furious debate erupted in Britain about police readiness and riot control methods, with ordinary citizens, newspapers and politicians calling for the use of rubber or plastic bullets, water cannon and tear gas.
While tear gas and water cannon are frequently used in Europe, such riot control methods are unknown in mainland Britain. Nor do police officers carry firearms except in exceptional cases, usually related to terrorism cases and combating armed gangs. Their normal arsenal in the face of public disturbances amounts to batons and riot shields.
The top-selling tabloid newspaper The Sun asked Tuesday: "Where are the water cannon and tear gas when yobs are burning cars and ransacking stores? Both would be justified. Both would already have been used elsewhere."
However the Home Office, which has responsibility for policing in England and Wales, has ruled out bringing in water cannon, which are used in Northern Ireland.
A spokesman said: "Water cannons are not approved for use on the mainland. A range of measures is available to the police to tackle disorder and we do not believe that water cannon are needed."
In any case there are none available. They would have to be brought over from Northern Ireland.
Last year, after student protests turned violent, there were similar calls for the use of water cannons. But Home Secretary Theresa May said then: "I don't think anybody wants to see water cannon used on the streets of Britain because we have a different attitude to the culture of policing here. We police by consent and it depends on that trust between the police and the public."
But Conservative MP Patrick Mercer disagrees. Mercer told The Daily Telegraph on Tuesday: "I find it strange that we are willing to use this sort of measures against the Irish yet when Englishmen step out of line and behave in this atrocious and appalling way, we are happy to mollycoddle them. ... If the police want cannon, then they should be allowed to use them."
Such calls are likely to be made by many MPs when Parliament is recalled to discuss the rioting.
But should the situation worsen, the Metropolitan Police, which has responsibility for policing London, is ready to consider using plastic bullets for the first time to quell rioting. Some police units are trained to use plastic bullets, also known as baton rounds, and they have been used before against armed suspects -- but not in situations of public disorder.
Stephen Kavanagh, the Met's deputy assistant commissioner admitted on Tuesday they were "one of the tactics" being considered.