Latam markets begin to take distance from the US and Euro zone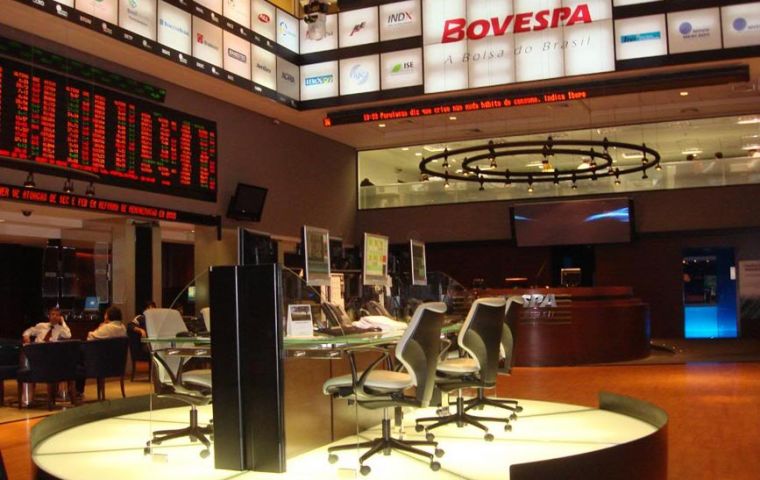 Latin American stocks marked their own course on Wednesday as the region remained relatively distant to turmoil in the United States and Europe.
The MSCI Latin America stock index was up 1.7% as stocks in Brazil, the region's biggest equity market by far, rose for the second straight session after plummeting to its lowest level since April 2009.
Brazil's benchmark Bovespa stock index rose 0.48% as shares of state-run oil company Petrobras (PETR4.SA) gained 3% and phone company Telesp (TLPP4.SA) added 1.6%.
Brazilian stocks have been hurt this year by worries that above-target inflation will take a bite out of real economic growth.
Dropping on the Bovespa was beef processor Marfrig (MRFG3.SA), which lost 6%. The shares have retreated nearly 40% in the past week as a fund sold a large stake to meet margin calls and investors worried the company is overleveraged.
Mexico's IPC index slipped 0.5% as shares of Wal-Mart de Mexico (WALMEXV.MX) lost 3.3% after Goldman Sachs cut its Walmex rating to "neutral" from "buy" citing uncertainty in sales trends. But shares of billionaire Carlos Slim's America Movil (AMXL.MX), on of the biggest telecommunications firms in the world, added 1.5%.
Chile's IPSA index .IPSA surged 2.47% as it gained for the second straight session, rebounding from its lowest level in more than a year.
In Argentina the Merval was down 1.89%, which could be linked to the global decline mainly in the US and Europe. But Argentina is less than three months away from a presidential election and investors are nervous. The country's Central bank published data showing there has been a considerable 'fly to safety".
However Tenaris one of the main shares and linked to the oil industry was down 6.27% and so was Edenar, linked to energy dropping 3.93%.
Colombia's stock exchange lost 0.11% to 13.071, 59 points while Lima also dropped, 1.27% to 18.969,27 points.