Snow storms in Magallanes have left 300.000 sheep and 9.200 cattle at risk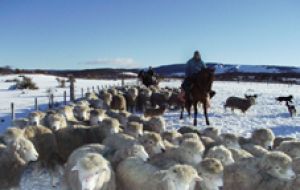 Almost 300.000 sheep and 9.200 cattle are exposed to serious life risk following heavy snow storms which covered the Magallanes Region in the extreme south of Chile with a white blanket anywhere between 70 and 150 centimetres thick.
According to data from a census undertaken this week by Chile's Agriculture and Livestock Service, SAG, following the latest storms access to many farms and road conditions have virtually blocked and isolated huge areas with livestock short of food and shelter.
Manuel Bitsch Mladinic, Agriculture Ministry representative in Magallanes reported that out of 600 farms contacted in Magallanes, 167 are suffering the consequences of blizzards and livestock losses, particularly sheep, could be significant.
"In (Chilean) Tierra del Fuego 29 landholdings belonging to 19 farmers with 51.600 sheep and 4.600 cattle are in serious risk", said Bitsch Mladinic in a release delivered to the press in Punta Arenas.
In mainland Magallanes 40 landholdings belonging to 33 farmers are trapped with 242.700 sheep and 4.600 cattle, unable to feed them which brings the total for the region to 294.000 sheep and 9.200 cattle, added the release.
Although most of Magallanes districts have been declared in 'agriculture emergency' with financial aid and tax relief promised, Magallanes farmers are concerned about the medium and long term consequences of such losses.