UN Assembly president and Timerman discuss Falklands/Malvinas situation and Unasur
Thursday, August 11th 2011 - 07:04 UTC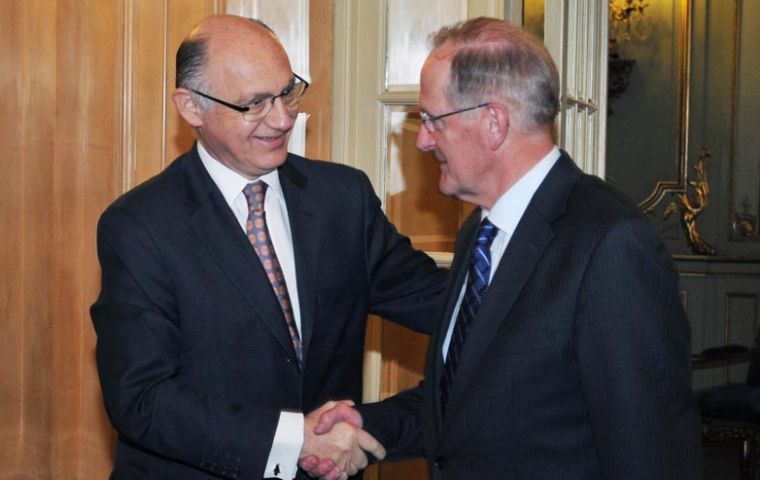 Argentine Foreign Affairs Minister Héctor Timerman received on Wednesday the president of the United Nations General Assembly, Joseph Deiss to discuss "the Malvinas situation, Unasur growing presence and the international financial crisis", among other global issues.
"A visit from the president of the United Nations General Assembly is hugely important for us, more so due to the upcoming UN annual assembly" Timerman highlighted after the meeting which also included Argentine ambassador before the UN, Jorge Argüello.
"We had a very encouraging exchange of ideas and Mr Deiss was very much interested in Argentina's opinion on different issues that make to world governance and to which Argentina strongly contributes", added Timerman.
Insisting with the Malvinas issue, Timerman said that Argentina and the UK must sit and negotiate the dispute for which "the UN for many years has been calling on both sides to begin that dialogue".
However "unfortunately the UK refuses" said Timerman who added Argentina has always called for a peaceful solution to the conflict through the pertinent organizations, such as the United Nations and in the framework of multilateralism.
Other issues of the agenda addressed included the G-77 of which Argentina holds the rotating chair, the advance of Unasur in regional affairs plus the effects of the world crisis in the poorest countries.
Regarding the current financial situation in the developed countries Timerman said Argentina is well prepared having significantly diminished its debt and creating jobs through a policy of re-industrialization.
"Mr. Deiss showed special interest in the functioning of Unasur and the coming ministerial meeting in Buenos Aires to address the global crisis" revealed the Argentine Foreign affairs minister adding that the UN official arrived from Chile where he was also impressed with references to Unasur and the coming meeting of Finance ministers and central bankers on Friday.
"We told Deiss of the importance of adopting measures jointly so that the US and European crises do not impact our region; sharing responsibilities so we as a region can overcome the challenges", said Timerman.
Deiss is a Swiss economist and politician, former president of the Swiss confederation and in 2010 was elected as president of the UN General Assembly.