Unasur planning an emergency fund to help contain capital flight attacks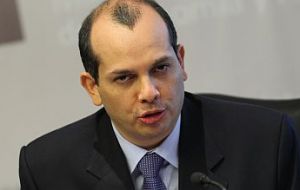 The Unions of South American Nations, Unasur, finance officials are considering creating a 10 to 20 billion dollars emergency fund to assist nations that experience capital flight should the global economic crisis deepen, according to financial sources.
The proposed fund, a regional alternative to the IMF will be discussed by central bank presidents and finance ministers from Unasur at the meeting in Buenos Aires.
The fund would be modelled along the Colombian experience with the Bogotá-based Fondo Latinoamericano de Reservas. Known as FLAR, the 4 billion dollars fund pools foreign currency reserves from five Andean nation plus Costa Rica and Uruguay to help member nations that run into balance of payment problems during times of crisis.
Unasur Finance ministers met August 5 in Lima at the urging of Colombian President Juan Manuel Santos to discuss ways to protect their economies and the value of their record 700 billion dollars in foreign currency reserves from a deteriorating U.S. and European economic outlook.
Among the options debated at that meeting, which was attended by Brazilian Finance Minister Guido Mantega and his counterparts from Argentina and Colombia, was a strengthening of FLAR by boosting its membership and raising new capital, Peruvian Finance Minister Luis Miguel Castilla told reporters.
The proposal was put forward by Colombia and Peru, and apparently has the tentative support of several countries including Chile and Brazil, although Mantega admitted Brazil hasn't decided whether to endorse the plan or the competing proposal for a new plan. Both will be debated at the meeting in Buenos Aires.
Brazil, which pledged 10 billion dollars of its reserves to the IMF in 2009, would be the biggest contributor to any new lending vehicle to assist smaller countries in the region that are more vulnerable to a drying up of world trade and credit, said the negotiators.
Reserve levels in Unasur five biggest economies climbed 29% over the past year, to 501 billion dollars as investors spurred by near-zero interest rates in the US, Japan and Europe looked for higher-yielding assets in emerging markets. To stem the inflows that are putting pressure on the region's currencies, policy makers from Brazil, Chile and Colombia have stepped up dollar purchases in the spot market. Most of the greenbacks are reinvested in U.S. Treasuries.