Falklands' Illex: one good season does not transform an industry
Friday, August 12th 2011 - 17:29 UTC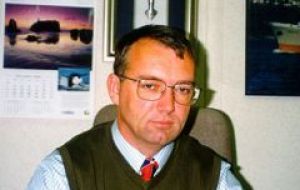 Despite a relatively buoyant 2011 Illex fishing season and "some optimism for the future," one jigging company went out of business and others had problems finding the funds to pay licence fees said The Falkland Islands Director of Fisheries John Barton.
He indicated the lesson was that one good season did not transform an industry and this was one reason why it was decided to keep licence fees the same as last year.
The 2011 fishery was reasonable, added Mr Barton, with almost 80,000 tonnes of Illex being taken.
"License uptake was good with some 92 jiggers involved from Korea and Taiwan", said Barton. "It is believed that the access conditions and the clear refund policy played a part in the strong interest in licences."
As reported in Penguin News previously, while catches did not reach the threshold catch level which would dictate no refund, adjusting for the value of the catch ruled out any refund.
Illex is one of the few fisheries yet to enter the ITQ* system. At present the Falkland Islands Plan indicates that there should be consultation on options for introducing Illex to the ITQ system in 2012/13, with further work being done in 2013/14 and the fishery ideally converting to ITQ in 2014/15.
There are no immediate plans to change that timetable at present, said Mr Barton, however, at the Fisheries Committee meeting on August 10 there was some discussion with regard to "beginning a dialogue" on the subject.
Stuart Wallace, Director of Fortuna Ltd said: "It is a complicated matter but we could be discussing it - we could talk it through – it may be too difficult, but we won't know that without trying."
Mr Barton noted that Illex seasons were very unpredictable and a bad season could often be predicted early, as a result sometimes there was no real competition for licences.
He said this might cause complications, adding that a system would also be required for refunds in poor seasons. Whatever was decided upon would have to be attractive to all Mr Barton emphasised.
He added, however, that he would be willing to accept proposals on the matter.
(*) The Individual Transferable Quota (ITQ) system allows local companies to buy long term rights to fishing quota. The system was introduced to encourage confidence to invest in the industry.