US retail sales up in July, but consumer confidence down to its lowest since 1980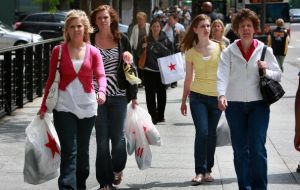 US retail sales rose in July by the largest amount in four months, Commerce Department figures show, tempering fears that the US may be slipping back into recession.
Sales rose 0.5% in July, the best since March's 0.8% increase. Figures for June were revised up to show a 0.3% rise.
However, a separate survey suggested US consumer confidence has fallen sharply.
Consumer spending is watched closely in the US as it accounts for two-thirds of the country's economic activity. Consumers spent more on furniture, cars and petrol in July, in part reflecting the higher cost of fuel.
US consumers have been more careful about their spending in recent months, in part due to high unemployment and rising energy and food prices.
The data suggests the US economy is not as weak as some had previously believed.
The Thomson Reuters/University of Michigan survey's preliminary finding for the start of August showed consumer sentiment at 54.9, the lowest level since May 1980.
However, the survey took place during the tense stand-off between the president and Congress over the lifting of the debt ceiling, but before ratings agency Standard and Poor's downgraded America's credit rating.
Two-thirds of consumers polled in the survey said they felt the economy had got worse recently.
"The confidence was guaranteed to go down given all the upsets in the [stock] market. Hopefully this won't be the precursor of consumers' action in August", said Kurt Karl at Swiss Re in New York.
In related economic news the US trade deficit with the rest of the world widened to 53.1bn dollars in June, as exports fell faster than imports, official figures have shown. The overall trade deficit is the highest in 32 months.
The trade gap was up from an upwardly revised 50.8bn in May, the Commerce Department said, a bigger rise than analysts had expected. Industrial goods accounted for much of the fall in exports.
The figures come amid growing concerns about the US economic recovery and the country's high debt levels.
Total exports for the month fell by 4.1bn to 170.9bn, while imports fell by 1.9bn to 223.9bn. Consumer goods exports actually increased, while cars and car parts were virtually unchanged from the previous month. Imports and exports of services were virtually unchanged.
The US deficit with China grew to 26.7bn, up from 25bn in May, while that with the European Union rose by 1bn to 9.8bn. The US recorded a trade surplus with Hong Kong, Australia, Singapore and Egypt.