Rockhopper raises its estimate of oil in North Falkland basin to 608 million barrels
Monday, August 15th 2011 - 22:04 UTC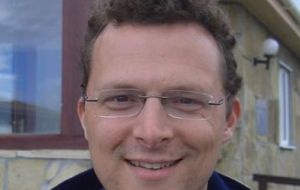 Rockhopper Exploration PLC upgraded its estimates of how much oil it could find off the Falkland Islands, boosting hopes that the remote territory in the South Atlantic could become a new oil province.
Rockhopper said on Monday that new seismic data indicated that its Sea Lion discovery in the North Falkland basin could extend further than it previously thought, as it raised its low case estimate of oil in place to 608 million barrels from 516 million.
Rockhopper is one of a number of explorers drilling in waters off the coast of the British Overseas Territory Falkland Islands in the South Atlantic. Drilling is ongoing to try to establish whether there are sufficient quantities of viable oil to justify investing in infrastructure.
"We are highly encouraged by the interpretation of new seismic data which identifies both significant reservoir extension and the existence of two additional fan prospects above and beneath the Sea Lion Main Complex," said Chief Executive Sam Moody in a statement.
Rockhopper called the two additional prospects Caspar and Kermit and said they could hold significant further resources.
Using the company's mid-case estimate of resources at the Sea Lion discovery and based on a recovery factor of 30%, 325 million barrels of oil could be produced from the field, it said.
Depending on the results of an appraisal well which it will start to drill shortly, Rockhopper said it may choose to drill other wells in addition to the three remaining wells scheduled.
Shares in Rockhopper On Friday closed at 217.8 pence, valuing the company at £ 562.5 million (915 million dollars). On Monday they bounced back strongly and touched 257p on the announcement, closing 19.25p better at 237pence.
Responding to Rockhopper's revelation that there may be more oil than expected on one of the licences off the Falklands, Desire Petroleum gushed to 20.9p and ended 2.25p higher at 19.25p. The stock crashed in March when the company admitted that the Rachel North well being drilled off the Falklands was not commercially viable.
Among other companies looking for black gold in the Falklands, Argos Resources firmed 0.75p to 25.25p and Borders & Southern rose 2.5p to 53.5p.
In a short release Desire said that Rockhopper statement was encouraging in particular that the Sea Lion Main Complex is believed to extend into licence PL004 (Tranche D), in which Desire has a 92.5% interest.