USDA estimates Argentine 2011/12 wheat crop at 13.5 million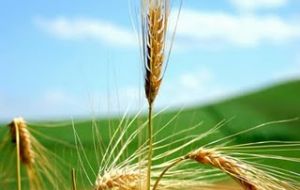 The coming 2011/12 wheat crop of Argentina will reach 13.5 million tons instead of the 15 million forecasted last July, reported the US Agriculture Department, USDA.
The US government also downgrades 2011/12 wheat export estimates to 7.5 million tons from 9 million.
The USDA August report also confirms Argentine soybean production and export estimates for the 2011/12 crop at 53 million and 8.5 million tons.
Regarding corn, USDA confirmed its 26 million tons estimate for the 2011/12 harvest, with exports of 14.5 million tons, as had been forecasted in July.