Only seven Latam universities among the 500 ranking from Shanghai Jiao Tong
Wednesday, August 17th 2011 - 07:35 UTC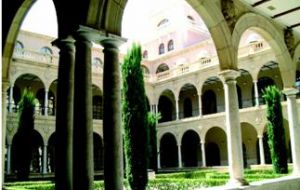 US universities continue to dominate the upper echelons of world rankings, taking 17 of the top 20 spots in the Shanghai Jiao Tong top 500 ranking. Five Brazilian, one Mexican and one Argentine figure among the 500 list.
The 2011 top 500 table compiled by the Chinese institution, officially known as the Academic Ranking of World Universities (ARWU), was published Tuesday and shows a top 10 of: Harvard University, Stanford University, the Massachusetts Institute of Technology, the University of California, Berkeley, the University of Cambridge, the California Institute of Technology, Princeton University, Columbia University, Chicago University and the University of Oxford.
The US performance of eight universities in the top 10 and 17 in the top 20 is unchanged from the previous year.
In continental Europe, ETH Zurich (23) in Switzerland is the highest ranked institution, followed by Paris-Sud (40) and Pierre and Marie Curie (41) in France. The highest ranked universities in Asia are the University of Tokyo (21) and Kyoto University (27) in Japan.
Latin America figures with three universities (Sao Paulo, Autonoma de Mexico and Buenos Aires) in the 153/200 listings while the other Brazilian and Universidad de Chile are in the 302/402 bracket.
The ARWU uses six indicators to rank universities: number of alumni and staff who have won Nobel Prizes and Fields Medals (mathematics); number of highly cited researchers selected by Thomson Scientific; number of articles published in Nature and Science; number of articles indexed in Science Citation Index - Expanded and Social Sciences Citation Index; and per capita performance with respect to the size of an institution.
The number of Chinese universities in the top 500 has increased to 35 (including Hong Kong and Taiwan) – up from 32 the previous year.
The US has 151 institutions in the top 500, while the UK has 37.
The UK institutions ranked in the top 100 are: Cambridge (5), Oxford (10), University College London (20), Imperial College London (24), the University of Manchester (38), the University of Edinburgh (53), King's College London (68), the University of Bristol (70), the University of Nottingham (85), and the University of Sheffield (97).
An Oxford historian, Howard Hotson, sparked a debate earlier this year when he argued that any rankings comparison between US and UK national performance must adjust for the US' large population and high GDP, as well as its relatively high level of spending on tertiary education (3.1 per cent of GDP compared with 1.3 per cent in the UK).
And the entire top 400 institutions had to be examined - rather than the top 10 or 50 - to assess depth of quality, Professor Hotson argued.
The Times Higher Education World University Rankings will be published in the boreal autumn.