Brazilian Agriculture minister steps down following corruption allegations
Thursday, August 18th 2011 - 02:54 UTC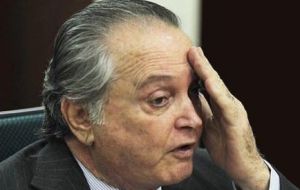 Brazilian Agriculture minister Wagener Rossi resigned to his post Wednesday following revelations of irregularities in his office thus becoming the fourth minister to step down, in eight months, of President Dilma Rousseff administration.

In his resignation letter Rossi condemns the media and claims he has been the target of a "cascade of false accusations".

"During the last thirty days I have been attacked daily and faced a cascade of false accusations, with no evidence, none of them indicating a single action from my part that could have been described as illegal or improper in dealings with government affairs".

According to an advisor to Brazilian Vice-President Michel Temer, who is also the political support of Rossi, the two political leaders exchanged views on the letter and then headed for President Rousseff's office to formalize the resignation.

Earlier in the week the Brazilian Federal Police opened an investigation following claims of alleged corruption at the Agriculture ministry, including 'favouring' tenders and collecting 'tips' for such favours.

The problems at the ministry begun when a former head of the National Supplies Company, Conab, (which depends from Agriculture), Oscar Jucá Neto and brother of Senator Romero Jucá claimed that the company was "a cave of bandits" strongly suggesting that Minister Wagner Rossi was well aware of the corruption schemes.

Brazil's leading magazine Veja further revealed that a private lobbyist had his own office in the ministry and worked in combination with Milton Ortolan, Deputy Minister, forcing his resignation.

Another revelation, this time from 'Correio Braziliense' indicated that Minister Rossi and one of his sons, Baleia Rossi, state representative in Sao Paulo, travelled on several occasions on a (7 million dollars) private jet belonging to Ourofino, an important company linked to agro-business.

Rossi, 68, was head of the Agriculture ministry since April 2010, under former president Lula da Silva and was confirmed by Dilma Rousseff. Before that he was president of the controversial Conab, also linked to Agriculture.

A successful businessman and corporation manager, (graduated in Economics and Education) Rossi was first elected to the Sao Paulo congress in 1983 and belongs to the PMDB, key ally of Lula da Silva's Workers Party. PMDB has control of the Senate and a blocking capacity in the Lower House. Vice-President Michel Temer is head of PMDB.

Following two periods as Sao Paulo state lawmaker Rossi was elected federal Deputy and re-elected twice, completing three periods.

Before becoming a federal minister, Rossi had important posts at Sao Paulo state: Transport and Infrastructure Secretary; Education, Sports and Tourism Secretary and president of the Sao Paulo infrastructure projects company.

President Rousseff has so far lost her cabinet chief, Antonio Palocci; Transport Minister Alfredo Nascimento; Defence minister Nelson Jobim and now Rossi. The list is expected to include the Minister of Tourism, Pedro Novaes, since his second in command (who has resigned) Frederico Costa and 38 other staff members were arrested by the Federal Police on corruption and embezzlement charges.