US reviews deportation policy involving 300.000 illegal immigrants
Friday, August 19th 2011 - 10:16 UTC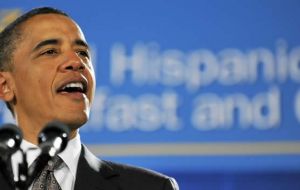 US President Obama administration said Thursday it would postpone the deportation of illegal immigrants without criminal records and allow them to apply for work permits as it reviews over 300.000 cases.
The case review would only affect those undocumented immigrants already in line for deportation proceedings, and not the vast majority of the estimated 11 million illegal immigrants in the United States.
The move comes amid criticism from rights activists of President Barack Obama's administration for deporting a record number of illegal immigrants and failing to get Congress to pass comprehensive immigration reform.
"The idea is set those cases aside... see where we can identify very low priorities, and essentially, administratively, close the case so they no longer clog the system," a senior administration official told reporters.
The official however noted that the government could reopen a case at any given time.
"At the same time, we're going to provide additional guidance to our people on the field when they encounter someone in the country unlawfully," the official added on condition of anonymity.
In fiscal year 2010, which ended September 30, the United States deported a record 392,000 illegal immigrants. More than half of those individuals had prior convictions.
Another senior administration official said the directive was aimed at investing US resources where they would have a "massive impact" on high-priority cases, such as those convicted of crimes in the United States, rather than "clogging up the system" with low-priority cases.
Immigrant rights activists protested in several cities across the country this week against Obama's policies on deportation, warning they could cost him votes from the Hispanic community when he runs for re-election in 2012.