Feisty Uruguay wins respect from neighbours and investors
Saturday, August 20th 2011 - 06:37 UTC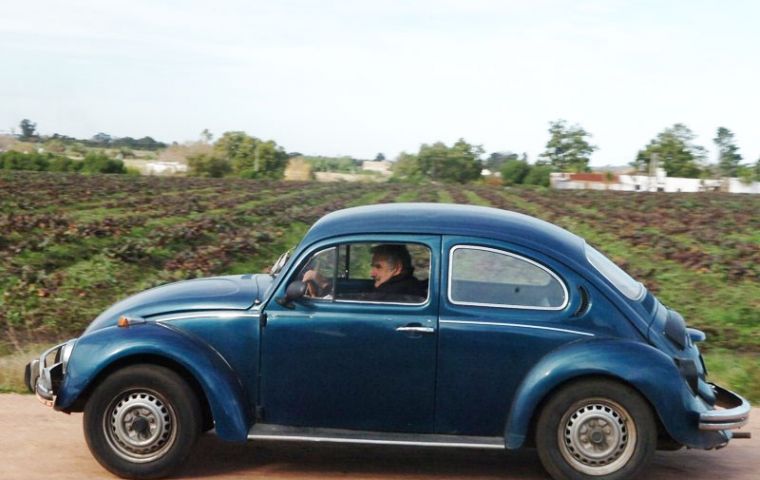 The following feature piece from Reuters written by Hillary Burke and Malena Castaldi gives an idea of Uruguay's international standing.
Uruguay, a plucky little country led by a former guerrilla leader whose most valuable possession is an old Volkswagen Beetle, is angling to become a new darling among global investors.
It is poised to regain investment-grade status after getting two credit rating upgrades in the last month, and its 2003 voluntary debt renegotiation is cited as an example for crisis-struck Europe.
Projects like a 1.9 billion dollars pulp mill complex have pushed investment to record highs, broadening out the economy's traditional agricultural base.
And the South American country of just 3.3 million people has grabbed headlines with recent soccer triumphs, including July's Copa America win over neighbouring rivals Brazil and Argentina.
The victory was not a fluke.
Being sandwiched between South America's biggest economies "is like being small in a pack of big dogs. You have to bark the loudest and act the toughest or else you don't exist," said Ignacio Otegui, head of Uruguay's construction chamber
Uruguay demands respect from its neighbours but also earns it from outsiders, who value its stable institutions, low corruption levels and respect for the rule of law -- setting it apart from many others in Latin America.
Foreign direct investment in Uruguay jumped to 1.63 billion dollars last year, nearly doubling the amount in 2005.
Its small size will probably keep it off any list of hot emerging markets, but "it does attract attention" said Jim Barrineau, a New York-based strategist for ICE Canyon, a 2 billion dollars emerging markets hedge fund.
"Uruguay is likely to be viewed as one of the best-run countries in Latin America. What debt it does have is not very actively traded because the fundamentals are so good that most managers buy and hold," Barrineau said.
Despite all the praise, Uruguay has logistical, labour and inflation hurdles to jump for it to transcend the current boom in global food prices and sustain economic growth over time.
Its highways and ports are overwhelmed and energy supplies are stretched thin. It lacks skilled labour and only half its people finished high school.
"I am constantly receiving foreign investors in my office" said Vice President Danilo Astori. "But we shouldn't believe we've reached our goal, or even gotten close. We've got to keep working to improve".
Uruguay's economy has grown eight straight years above the regional average, and expanded 8.5% in 2010. Unemployment is hovering near a record low, mirroring trends elsewhere in South America.
The country is a strategic gateway to the region's markets. Its economy is based mainly on farming and cattle-ranching, tourism and the pulp industry. Officials hope to develop the mining sector by tapping a newly discovered iron-ore deposit.
Foreign companies investing or planning projects in Uruguay include Finnish paper group UPM-Kymmene, Jersey-based miner Zamin Ferrous, Brazilian cement maker Votorantim Cimentos and Repsol's Argentine unit, YPF.
Although the government changed political stripes after a leftist coalition took power in 2005, pro-market policies have remained in place.
President Jose "Pepe" Mujica, a leftist and unusually forthright politician who preaches anti-consumerism, ruffled feathers in the farming and business communities by saying he would raise taxes on large land holdings.
But opposition to the proposal even within his government's ranks has stalled it. Astori said Uruguay has to show investors it is not changing the rules mid-stream.
Such stability was crucial to attracting Montes del Plata -- a joint venture between Chile's Arauco and Finnish paper maker Stora Enso -- to Uruguay to build a new pulp mill.
"When you invest 2 billion dollars, you are thinking about recouping your investment in the long term," said Montes del Plata's chief executive, Erwin Kaufmann. "You have to trust that the rules of the game won't change ... you look for political stability so that whether the right, left or centre governs, the broad macroeconomic guidelines are respected."
Inflation
Uruguay has drawn heaps of praise from global bank analysts recently but they point to a key stumbling block: inflation.
Consumer prices rose 8.25% in the 12 months through July, well above the central bank's target range of 4% to 6% by year's end.
Inflation reflects international price rises as well as robust domestic demand. It is hard to tame because Uruguay's economy is very open and highly dollarized, limiting the efficacy of monetary policy tools that target peso supply.
Uruguay faces a dilemma seen region-wide. The government can fight inflation by either cutting spending -- which is politically risky -- or by letting the currency appreciate further against the dollar, which hurts competitiveness.
Exporters are already feeling the pinch from a stronger local peso as well as rising transportation and labour costs, said Marcos Guigou, head of Agronegocios del Plata, a grains company founded in 2003 in partnership with Argentina's so-called soy king, Gustavo Grobocopatel.
Guigou said the explosive growth in grains production in the last decade is cooling due to rising costs, perennial port delays and obstacles to improving soy and corn yields.
"Many companies have left the business. New ones come to replace them, it's nothing catastrophic, but the situation is not as comfortable as it was a few years ago," Guigou said.
Carlos Steneri, a former government debt official who now works as an economic consultant, said while inflation is a "messy" problem for the country, it is not a major concern for investors.
"Business people don't pay the price of inflation, poor people do," Steneri said. "Workers only get wage hikes once a year but business people can raise prices once a month."
Regional pros and cons
Steneri said Uruguay's main attraction for investors is its coordinates on the map since the country serves as a key entry point to the most dynamic axis in South America, which runs from Santiago, Chile to Sao Paulo, Brazil.
Some global companies use Uruguay as a testing ground since its small size makes it the perfect "laboratory" for forays into the Mercosur trade bloc, which includes Brazil, Argentina, Uruguay and Paraguay, Otegui said.
Historically, Uruguay's economic health has hinged on that of its bigger neighbours. The country plunged into crisis when Argentina defaulted on its debts and went into a deep recession in 2001-02.
Since then, Uruguay has worked to diversify its production and export markets, while also reducing dollar-denominated government debt. Astori said that while Uruguay is not de-linking itself from the region, it is expanding trade ties with Asia and elsewhere.
Still, while Uruguay's economy is more protected than it was to its neighbours' ups-and-downs, its destiny is still inevitably intertwined with theirs.
For now, that is good news. The region as a whole has more solid finances, bigger cushions of foreign reserves and healthier banking systems than it did before.
"These days Argentina isn't the one with problems, it's the First World," Otegui said.