Latam markets follow world trend but fall less than the US and EU
Saturday, August 20th 2011 - 06:52 UTC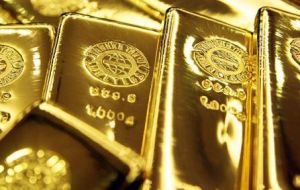 Latin American stocks fell on Friday as deepening fears of a US recession and a wider financial crisis that could result from Europe's debt troubles kept investors cautious.
Brazil's benchmark Bovespa stock index lost 1.29% to 52,447.63, accumulating 1.92% in the week.
In Sao Paulo trading, state-run oil Petrobras fell 2.96% while Vale, the world's biggest iron ore producer, lost 1.44%.
Mexico's IPC index lost 0.33% as shares of Cemex, the top U.S. supplier of cement, lost 3.3%.
The index's 100-day exponential moving average has crossed below its 200-day EMA in a sign analysts say could suggest much steeper losses lie ahead unless there is a sharp rebound in the next few sessions.
Chile's IPSA index lost 0.47% as retailer Falabella fell 1.49%. Trading in the week ended 3% down.
Argentina's Merval lost 1.57% on Friday and 4.77% in the week.
In the Lima Stock Exchange he index was down 0.71% on Friday and ended the week 2.81% down.
Finally the Colombia IGBC lost 0.77% Friday and 3.46% in the week.
Earlier in the day major European share markets closed lower on Friday, ending another turbulent week. At one point, European markets were sharply lower, with falls of more than 3% for some leading indexes.
By the close, London's FTSE 100 was down 1%, Paris's Cac was down 1.9% and Frankfurt's Dax was down 2.2%.
The losses leave the 100 index down 13% on the month, with the French and German markets worse hit, losing 18.3% and 24% respectively.
Other European markets suffered strongly, Madrid was down 2.1%; Milan, 2.5% and Athens, 1.5%.
In New York, falls extended in late trade to take the Dow Jones to a close of 1.57%; the Nasdaq 1.62% and S&P, 0.20%.
Gold remained a favourite with investors flocking to buy into its safe-haven image and spot gold hit a new record of 1,877 dollars before slipping back to 1,846.50.
Also on Friday, oil prices recovered from early losses, as the dollar weakened, making commodities more attractive. Brent crude was up almost 2 dollars at 108.62 dollars a barrel, while US light, sweet crude fell 12 cents to 82.26, after hitting a session low of 79.17. The price of oil had fallen earlier as investors bet that slower global growth would dent demand for crude.