Chavez supporters shave their heads in solidarity with the Venezuelan leader
Monday, August 22nd 2011 - 20:59 UTC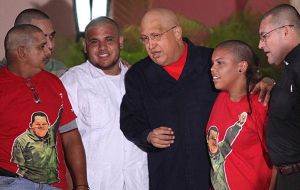 Supporters of Venezuelan President Hugo Chavez shaved their heads in solidarity with their leader's struggle against cancer. Barbers shaved off the hair of several men and at least one woman while the crowd swayed to a religious song on Sunday as hundreds prayed and sang at a televised event.
Mr Chavez, bald from chemotherapy, smiled, clapped with the music and waved to the crowd.
Those attending included a group of six from the Dominican Republic who shaved their heads outside the Venezuelan Embassy in their country on Friday. Chavez greeted the Dominicans with hugs, and stood arm-in-arm with them.
Pro-Chavez lawmaker Robert Serra said in a message on Twitter that "Venezuelan young people and priests cut their hair ... in solidarity".
Young men with close-cropped hair stood in the crowd as shouts of "Hallelujah!" and "Amen!" rose at the end of a song.
Leidy Jimenez, one of the Dominicans, told state television that their decision to shave their heads was "a gesture of love and of strength for the president."
Mr Chavez blew a kiss to the crowd, and listened as a priest, a minister and others spoke. "Long live Hugo Chavez!" one Dominican man told the crowd.
The Venezuelan president praised the Christian group from the Dominican Republic in a newspaper column on Saturday, saying "may God bless you". The Dominicans arrived in Venezuela on Saturday night to meet with the president.
Chavez also said in his column that tests show his body has been responding well to chemotherapy. He said he was preparing for a "possible" new round of chemotherapy and that all of his hair has fallen out as a result of the treatment.
Mr Chavez returned from his latest round of chemotherapy in Cuba on Aug 13. He underwent surgery in Cuba in June that removed a cancerous tumor from his pelvic region. He has not specified where the tumor was located. He has said the chemotherapy aims to ensure no malignant cells reappear.