Rockhopper spuds new assessment well in Falklands' Sea Lion Main Complex
Monday, August 22nd 2011 - 20:32 UTC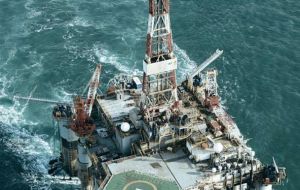 Monday morning Rockhopper Exploration announced the spudding of its latest exploration well, 14/10-7, to further test the Sea Lion oil discovery in Falkland Islands waters.
The new well location is around 3.3 kilometres away to the northwest from the original Sea Lion oil discovery, 14/10-2, and it is designed to investigate reservoir and hydrocarbon presence towards the northern limit of the currently mapped extent of the Sea Lion Main Complex.
Rockhopper expects that the well located in licence PL032 and 100% owned by the company, will take 32 days to drill.
On August 15, Rockhopper revealed that by its own estimate - based on the latest 3D seismic data and its recent drilling success - the Sea Lion oil discovery contains between 608 million and 1.279 billion barrels of 'in-place' oil.
The company believes that it can achieve recovery rates between 30 and 40%, therefore it estimates that Sea Lion contains around 325 to 434 million barrels of recoverable oil.
Importantly it said that the seismic results show that the Sea Lion Main Complex (SLMC) extends the south, and that the new 'high case' area extends over 90 square kilometres. The seismic results have also identified two new fan prospects, Casper and Kermit.
Rockhopper is committed to drill another three wells – including the 14/10-7 exploration well - using the Ocean Guardian rig and it is in talks over the possibility of drilling additional wells under an assignment agreement.
Meanwhile it also confirmed that the rest of the newly acquired 3D seismic data is still being processed and Rockhopper expects to have the interpreted results by the end of 2011. Rockhopper said it has now mapped fan prospects - SLMC, the Lower Fan, Chatham, Casper and Kermit.
Rockhopper Exploration is an AIM-listed company. Sea Lion located in the North Falkland basin could become the first producing oilfield off the Falklands if it is brought online.