Tripoli crowds cheer Libyan rebels as they take the city; pockets of resistance
Monday, August 22nd 2011 - 06:51 UTC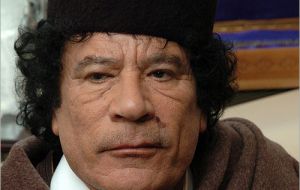 A convoy of Libyan rebels rolled early Monday morning into central Tripoli past celebrating crowds after a day of heavy fighting in and around the capital. Crowds on Green Square cheered them, waving flags and firing salutes.
President Obama said the Gaddafi regime had reached a "tipping point". The UK said the end was near for the Libyan leader, and urged him to go.
The rebels reportedly captured Col Gaddafi's son Saif al-Islam, as the colonel himself vowed to fight on.
International Criminal Court (ICC) prosecutor Luis Moreno-Ocampo said he had been informed of the arrest. The court has indicted Saif al-Islam for torturing and killing civilians.
Another of Col Gaddafi's sons, Muhammad, was speaking on the phone to al-Jazeera TV when he said the rebels were surrounding his home. Gunfire was heard before the line cut off.
Fighting has continued overnight in some districts while the rebels and their supporters have been celebrating on Green Square - which they renamed Martyrs' Square.
TV footage showed Libyans kneeling and kissing the ground of Tripoli in gratitude for what some called a "blessed day".
Government forces still control parts of the city, including the areas around Col Gaddafi's Bab al-Azizia compound and near the hotel where foreign journalists are staying, south of the city centre.
In an audio message broadcast late on Sunday, the Libyan leader urged residents to "save Tripoli" from the rebels.
"How come you allow Tripoli, the capital, to be under occupation once again?" he asked. "The traitors are paving the way for the occupation forces to be deployed in Tripoli."
Col Gaddafi is believed to have thousands of armed followers in the capital, although reports suggest a number of them have surrendered to the rebels.
The chairman of the rebel National Transitional Council (NTC) Mustafa Mohammed Abdul Jalil said early on Monday: "I warn you, there are still pockets of resistance in and around Tripoli."
Libyan Information Minister Moussa Ibrahim said fighting in the city since noon (10:00 GMT) on Sunday had left 1,300 people dead and 5,000 wounded. There is no confirmation of the figures.
Rebel forces advanced from the east and west in recent days, backed by Nato aircraft enforcing a UN resolution to protect civilians.
In Washington, President Obama said in a statement: "Tonight, the momentum against the Gaddafi regime has reached a tipping point. Tripoli is slipping from the grasp of a tyrant."
UK Prime Minister David Cameron said it was clear "that the end is near for Gaddafi".
Mr Cameron said the Libyan leader had "committed appalling crimes against the people of Libya and he must go now to avoid any further suffering for his own people".