Brazil auctions first concession to construct and operate major airport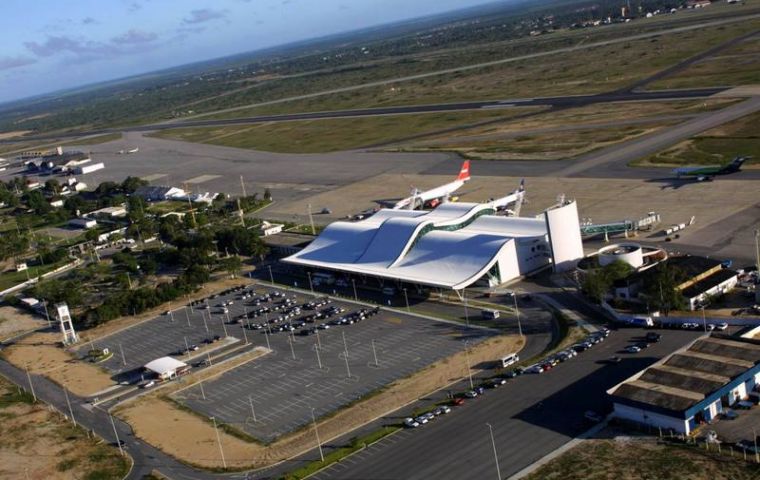 Brazil's government on Monday auctioned rights to the first major airport to be operated by a private company as the country moves to pick up the pace of investment in its air travel infrastructure ahead of the 2014 World Soccer Cup.
A consortium called Infra-America competed against three other groups to win the concession to build and operate new airport terminals near the north-eastern Brazilian city of Natal. The consortium has three years to build the Sao Goncalo do Amarante airport. It will then hold rights to operate the airport for 25 years. The license can be extended once, for five additional years.
Infra-America is composed by Brazilian engineering contractor Engevix and Argentine conglomerate Corporacion America. Among other activities, Corporacion America operates airports in Argentina and other countries. Engevix and Corporacion America each holds a 50% share of Infra-America.
Infra-America beat out three other consortiums by offering a bid of 170 million Brazilian Real (106 million dollars). The bid was more than three times higher than the reserve price set by the government of 51.7 million Real.
Brazil's growing demand for air travel--which expanded 23% last year--has put a strain on the country's airports. President Dilma Rousseff agreed to hand over some airports to private companies in order to expand capacity, especially ahead of the 2014 World Cup and the 2016 Olympic Games, both to be held in the country.
Rousseff has said she will auction operating rights for another three airports: Sao Paulo's international airport, as well as airports in Brasilia and in Campinas, a city about 100 kilometres north of Sao Paulo. The government also is studying licensing construction at airports in the cities of Rio de Janeiro and Belo Horizonte. Sao Paulo, Rio de Janeiro and Belo Horizonte are, respectively, Brazil's three biggest cities.
By some estimates, Brazil needs to invest the equivalent of between 16 billion and 22 billion over the next 20 years in order to bring capacity in line with future demand. Current capacity of 130 million passengers will likely need to more than double, to 310 million during the next two decades, to match air traffic demand growth of as much as 7% a year.