OAS calls for 'shared responsibility' from drug-consuming countries
Tuesday, August 23rd 2011 - 06:42 UTC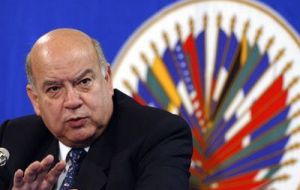 Consumer countries must assume their responsibility in the fight against the drug trade because as long as there is a demand, the illegal business won't be stopped said the Organization of American States Secretary General Jose Miguel Insulza who also praised his host Peruvian president Ollanta Humala for convening a presidential summit on the issue.
"It is essential that consumer countries adopt effective measures to counter and diminish significantly drugs trafficking", said Insulza after meeting on Monday with President Humala at the Government Palace in Lima.
"This can only be seen as a shared responsibility; that is not put all the blame on drugs producing countries, but rather assume the responsibility as the countries to which drugs are destined", said Insulza.
Having in the region over a million people in jail linked to drugs or confiscating tons of drugs has not solved the problem, so what is needed is a radical change of attitude.
The administration of President Humala has begun the coordination for an anti drugs summit with the participation of producing and consuming countries, to make effective and reliable the concept of shared responsibility in the drugs combat.
"This expression reflects very well the problem faced by countries of the region and that have done a major effort in recent years to reduce the narcotics traffic but we see no similar effort from the side of demand", underlined Insulza.
According to a report from OAS released last July the confiscation of drugs has increased significantly in the last few years having jumped from 402 tons in 2007 to 550 tons in 2009, but "this has not eroded the drugs cartels".