President Rousseff battles for cohesion in a disappointed ruling coalition
Wednesday, August 24th 2011 - 07:28 UTC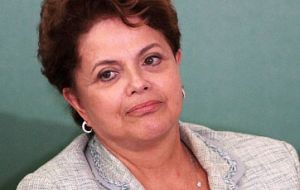 Brazilian president Dilma Rousseff said on Tuesday that the two main parties of the ruling coalition, "PT (Workers party) and the PMDB (Brazilian Democratic Movement) are the basis of the stability and trust of the government".
She was addressing a lunch for PMDB and PT members of Congress and cabinet ministers organized by Vice President Michel Temer (PMDB) with the purpose of trying to again harmonize relations between Brazil's two strongest parties, following on a cascade of graft allegations which seems to be getting out of control and are seriously distracting her legislative agenda.
In the first eight months of government President Rousseff has lost four ministers, a fifth is under investigation in Congress and over the weekend the media detailed new allegations of corruption or unethical conduct involving five members of her cabinet.
"The co-fraternization is evidence that the PMDB is more united than ever in support of government", said Vice-President Temer in spite of his party having lost Agriculture minister Wagner Rossi last week, who is also a close ally of his.
However in spite of the calls for unity, the wave of scandal revelations is looking less like a coordinated anti-corruption drive by Rousseff, as some media and government officials have portrayed it, and more like something more unpredictable and dangerous.
Apparently politicians upset over budget cuts began leaking dirt on government officials to the media and it has since escalated into a free-for-all between rival factions inside Congress.
The distinction is critical because if Rousseff is not leading an anti-corruption putsch, it means she also has little or no ability to stop the onslaught of corruption claims.
The starting point for the current crisis was Rousseff's decision shortly after she took office on January 1 to slash 30 billion dollars from this year's budget. A large share of the cuts fell upon the so-called "discretionary funds" that are considered a sacred perk for members of Brazil's Congress.
The cuts sought to cool the economy and ensure a "soft landing" after roaring growth of 7.5% in 2010 as well as face the current global situation.
Cuts have helped prevent inflation from spiraling out of control. Yet they have also enraged the parties that make up Rousseff's coalition, which had become accustomed to being handed endlessly increasing revenues, with few strings attached, during Brazil's long economic boom under her charismatic predecessor, Lula da Silva.
With Lula da Silva gone, Rousseff has struggled at the kind of back-slapping that has traditionally defused similar crises in Brazil. Meanwhile, the economy has slowed even more than expected in recent months, adding to the tensions as lawmakers fight for control of a smaller pool of resources.
The time-honored weapon of choice for feuding politicians in Brasilia has long been the artful leak of graft accusations to magazines -- often the influential weekly Veja -- which forces their enemies to step aside.
Such was the case with the resignation last week of Agriculture Minister Rossi, who quit after a fellow party member denounced in Veja the presence of "bandits" in a public company linked to the agriculture ministry, and accused Rossi of involvement.
The PMDB has been in open revolt all year over the cuts, which party leaders say have fallen disproportionately on their heads. PMDB leaders have also trained their fire on each other as they compete for a reduced pool of spending outlays and political appointments in Rousseff's government -- a fight that triggered Rossi's departure, officials said.
The two most serious latest allegations refer to the tourism minister, also of the PMDB, who allegedly had transferred 1 million Real (650.000 dollars) to a shell company with no clear purpose; and that the cities minister offered legislators cash in return for their support. Both denied the accusations.
But problems are also mounting inside the Workers Party who believe the 'ethics campaign' is damaging the image of the previous government, as 'corrupt' and therefore of the former president who is adored by Brazilian public opinion and is a winning card for any future presidential bid.
Furthermore Rousseff last week met with former president Fernando Henrique Cardoso, from the main opposition Social Democracy party, PDS, who is a political enemy of Lula da Silva.
Cardoso and several PDS leaders have praised President Rousseff for the 'ethical campaign' and have seriously criticized ministers that have come under suspicion.
As the main opposition force, the PDS has systematically attacked Lula da Silva and his administrations with corruption allegations.