World's largest camera to survey 300 galaxies from an observatory in north Chile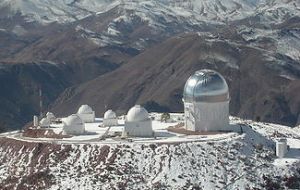 "The camera that we built is really very similar to the digital cameras you can buy at Walmart or wherever" Brenna Flaughter told US National Public Radio. "But this camera is big — its guts fill a shiny cylinder that's about the size of a car engine".
Weighing in at just less than one ton and boasting a lens with a three-foot diameter, it's clear the camera she described is not all that similar to those you can buy at Walmart.
Flaugher is a physicist at U.S. government-sponsored Fermilab near Chicago. And the camera is DECam –short for Dark Energy Camera– the brainchild of 120 scientists participating in the Dark Energy Survey (DES).
DECam will soon be shipped to Chile and attached to the Blanco telescope in hopes that it will recover images of dark matter dating back billions of years.
"Dark energy," discovered in 1998, was the term scientists gave to the force that appeared to accelerate the speed at which the universe expands.
Flaugher told NPR that dark matter itself cannot be photographed, but its effects –colour spectrums created by light– can be recorded by using the DECam.
Before it gathers readings though, the pieces will be shipped to the Cerro Tololo Inter-American Observatory in northern Chile, where they will be tested on the Blanco telescope.
When installation is finished later this year, the 570 mega-pixel camera will survey more than 300 galaxies and collect readings from six to seven billion years ago. This information will be studied as part of the five-year DES project.
By Erin Allen - The Santiago Times