Argentina blocks sale of Paraguayan power to Uruguay
Friday, August 26th 2011 - 16:56 UTC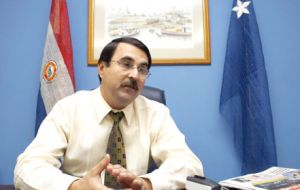 "Argentina wants to charge 49 dollars per KW of power transferred from Paraguay to Uruguay, which is five times what it charges Brazil" claims Paraguayan Vice President Federico Franco who described the pretension as "inadmissible and preposterous".
"I'm stating this with absolute knowledge and responsibility: Argentina wants us to pay 14 dollars per KW plus an additional 35 dollars, that is 49 dollars to have power transferred to Uruguay, and this is five times what Argentina dares charge Brazil for similar power transfer to Uruguay which is between 8 and 10 dollars per KW", said Vice President Franco interviewed by an Asuncion radio.
"This is really regrettable and makes non viable any deal, any contract involving the transfer of power" of which Paraguay has a huge surplus.
Franco made the statement following a meeting with the Lower House Foreign Relations committee where he supplied details of the contract, based on Argentine promises, to sell power to Uruguay which must necessarily make use of the Argentine grid.
Franco said that Paraguay charges Argentina 3 dollars per KW for the use of its grid; Argentina charges Brazil between 8 and 10 dollars for power transfer to Uruguay crossing their territory, "but now Argentina wants to charge Paraguay five times what it charges Brazil for a similar operation".
The Vice president said that under these "inadmissible" circumstances Paraguay should not be holding talks with Argentina on the construction of the Aña Cua dam, which is considered strategic by the Buenos Aires government.
Landlocked Paraguay but privileged with South America's extraordinary fluvial basin has two major hydroelectric dams which it shares with its powerful neighbours, Brazil and Argentina.
The Itaipú dam supplies 20% of Brazil's electricity and the Yaciretá dam also contributes significantly to the Argentine energy production.
However under contract Paraguay can only sell any surplus to its associates at prices dating back to the original contracts, rock bottom at current values.
Furthermore the two Mercosur senior members argue that Paraguay owes billions of dollars for the construction of the hydroelectric complexes and collect part of that debt from current power sales at the old prices.
In the latest round of discussions, Argentina estimated that Paraguay's Yaciretá debt amounts to 17 billion dollars.