Argentine Claims on the South Atlantic Remote Islands
Friday, August 26th 2011 - 04:13 UTC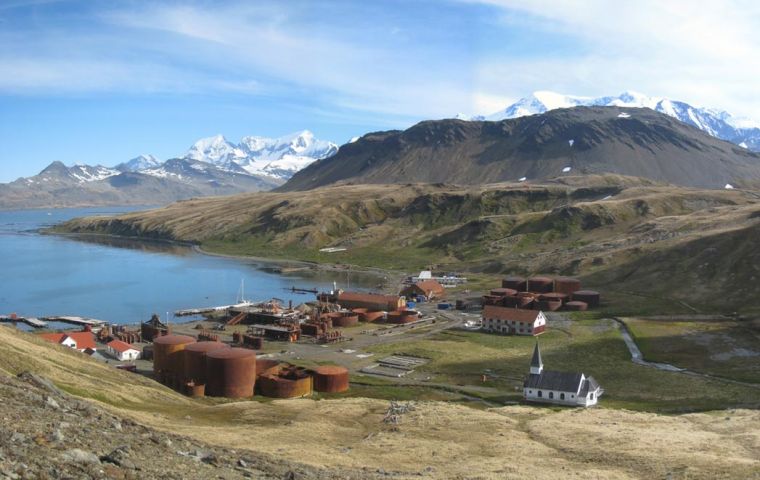 Argentina's claim to the Falkland Islands is well documented, but lesser known is her continued claim to South Georgia and the South Sandwich Islands.
HMS Edinburgh has successfully completed her flag-flying mission to South Georgia whilst carrying out duties which the Royal Navy rather blandly describes as Atlantic Patrol Task (South) or APT(S). In other operations, the Royal Air Force regularly dispatches aircraft to overfly the remote Islands to demonstrate a "presence" and monitor the fishing fleet benefiting from the Island's rich waters. A costly enterprise but one which, perhaps from lessons learnt in 1982, is thought necessary to send out the message that the UK is committed to showing her "continued interest" in the Overseas Territories. Although it is well known that Argentina lays claim to the Falkland Islands, at every opportunity it regurgitates the mantra "Las Islas Malvinas son Argentinas," it also includes as part of the obligatory statement South Georgia and the South Sandwich Islands. Why then, when the Islands lie some 1000 miles west of Argentina, are they disputed?
The first official Argentine claim for South Georgia materialised in 1927 when a whaling lease for Jason Harbour, an area to the west of Cumberland Bay, expired. The lease had been granted to an Argentine whaling company in 1909 but on expiry, reverted back to the Falkland Islands Government causing much consternation. In 1938 the South Sandwich Islands were added to the dispute. The basis for the claim is vague and based upon various interpretations of historical declarations. Of no doubt, is that they were first landed by the British explorer James Cook in 1775 who claimed them in the name of King George III. However geographically, they fell into the area which caused much angst between the Portuguese and Spanish in the 15th Century. Although as yet undiscovered, their ownership was arbitrarily determined by Papal decrees and the 1494 Treaty of Tordesillas which split the New World along an agreed line of longitude and gave Spain all rights to lands to the west, and Portugal all rights to the east. Ironically South Georgia and the South Sandwich Islands lie to the east of this division. UK sovereignty of the Islands was spectacularly questioned in 2009 when Argentine diplomats handed 800 kg of documents to the UN claiming 1,700,000 sq km of the South Atlantic (including South Georgia and South Sandwich Islands) and a further 4,800,000 sq km of continental shelf. Whatever the motives for the claim, the reasoning behind it is at best based on questionable logic. Perhaps it is time for both countries to request a unbiased decision by the International Court of Justice as was requested by the UK in the 1940s and 1950s.
South Georgia, which has no permanent inhabitants, a small team of administrators and scientists populate the Islands during the summer months, is renowned for its unspoilt and stunning scenery and praised for its management by international environmental organisations.
Neil Russell, SeAled PR - Stanley