Boy 14 shot in the chest, becomes first death in months of social unrest in Chile
Friday, August 26th 2011 - 15:53 UTC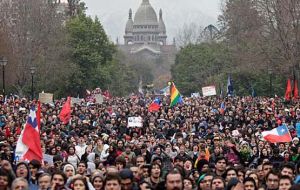 Chilean teenager died early Friday, a day after being shot in the chest during massive protests in the capital Santiago against President Sebastian Piñera, police said, the first fatality in months of social unrest.
Police said the youth was 14 years old. Local media identified him as Manuel Gutierrez, and said he was shot near a security barricade as protesters battled police in Santiago on Thursday, the second day of a two-day strike against unpopular Piñera marked by violent clashes and sporadic looting.
Local radio said witnesses blamed police for firing the shots.
"The death of any citizen is a very serious situation," said Rodrigo Ubilla, Undersecretary at the Interior Ministry. "We should all be sad today because we have not been able to move forward peacefully."
"The solutions to big problems in this country do not lie in throwing stones, bombs and attacking people, the solution lies in talking," he added. Ubilla had put the youth's age at 16.
Led by students demanding free education, hundreds of thousands of people have taken to the streets in recent months to call for greater distribution of the income of a copper price boom in the world's top producer of the metal.
On Thursday youths blocked roads, threw rocks and set fire to piles of trash at intersections in Santiago and other cities to block traffic. Police used water cannon and tear gas to defuse the latest social unrest against conservative billionaire Piñera's policies.
The government said more than 1,300 people have been detained since Wednesday and several police officers were badly wounded - two of them shot - as violence flared when dozens of shops and supermarkets were looted and buses damage.