"Chavez' Venezuela has no chance of joining Mercosur" says Paraguay Congress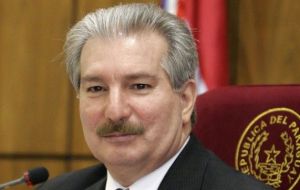 Paraguay's vote in support of Venezuela's full integration to Mercosur seems more distant than ever as was confirmed by the country's Senate Foreign Relations committee to Brazilian ambassador Eduardo Dos Santos.
"While President Hugo Chavez rules Venezuela, there is no chance of a Paraguayan positive vote for Venezuela's full incorporation to Mercosur", said Senator Miguel Carrizosa president of the committee.
The courtesy visit by the Brazilian ambassador to the committee included an agenda with several bilateral issues, but also Brazil's interest in the Venezuelan case, which remains blocked by the Paraguayan congress.
"In the short term it's out of the question", said Senator Carrizosa who then referred to President Chavez latest 'disappointing stance'.
"When most countries, NATO and other international organizations want an immediate return of peace to Libya, Chavez is openly supporting Muhammar Gaddafi saying he must stay in office".
Senator Carrizosa added that this type of attitudes make the acceptance of Venezuela very difficult, since the veto power in the Mercosur block is very strong and all decisions must be agreed on consensus, "and not by a majority which would give President Chavez an extraordinary influence".
When the Senator was asked why the other full members of Mercosur (Argentina, Brazil and Uruguay) don't bring up those objections, Carrizosa said that the issue is linked to trade matters.
"For Paraguay it is much better to have Venezuela as an associate member, such is the case of Chile and Bolivia, than as a full member", underlined Senator Carrizosa.
Ambassador Dos Santos and the Senators also addressed the issue of the power line from the jointly shared hydroelectric dam of Itaipú to the (summer blackouts plagued) capital Asunción, originally planned to be financed by the Brazilian treasury, but which will now be constructed with Mercosur Structural Funds.
Similarly with a second bridge linking Paraguay and Brazil since the only one, opened in 1965 is simply insufficient for all the bilateral trade, traffic and tourist industry.
Ambassador Dos Santos said that improved connectivity much depends on Brazil but currently the administration of President Dilma Rousseff has drastically cut budget outlays delaying many major public works, such as the promised second 'friendship bridge'.