Delta decides to buy American and orders 100 Boeing 737 worth 8.5bn dollars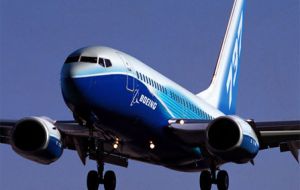 Delta Air Lines Inc. agreed to buy 100 Boeing Co. 737 single-aisle jets with a catalogue value of 8.5 billion dollars as the carrier postponed plans to buy another 100 smaller jets from Brazil's Embraer SA or Canada's Bombardier Inc.
Deliveries of the 180-seat Boeing 737-900ER jets will begin in 2013, Atlanta-based Delta said Thursday in a statement. Separate talks with Embraer and Bombardier have been delayed until at least 2012.
Winning the Delta deal is a boost for Boeing after losing its exclusive ties to American Airlines in July as that carrier split a 460-plane order between Chicago-based Boeing and Europe's Airbus. Delta had flown only Boeings until adding hundreds of planes from Toulouse, France-based Airbus when it bought Northwest Airlines in 2008.
The Boeing purchase will allow Delta to keep its annual capital expenditures from 1.2 billion to 1.4 billion dollars over the next three years, and the carrier said it will take 12 to 19 aircraft a year starting in 2013. Airlines typically negotiate discounts from list prices.
"A key component of Delta's strategy is making prudent investments for the future while maintaining our financial and capacity discipline," Chief Executive Officer Richard Anderson said in the statement.
Delta will use the new jets to replace some of its oldest and least-efficient planes such as Boeing 757s and MD-88s that are 20 or more years old. The 737s will have CFM56-7BE engines, with a total list value of 2.2 billion dollars that are made by CFM International. CFM is a joint venture between General Electric and France's Safran SA.
Discussions with Brazil's Embraer and rival Canadian Bombardier advanced this year while Delta negotiated with Boeing and Airbus for the larger planes.
Embraer and Bombardier are trying to create a niche for jets smaller than those from Airbus and Boeing. Single-aisle planes from Sao Jose Dos Campos, Brazil-based Embraer or Montreal-based Bombardier would complement Delta's mainline fleet of Boeing and Airbus narrow-body planes.