Ten Malvinas war Rio Gallegos veterans plan to visit Falklands next October
Friday, August 26th 2011 - 03:43 UTC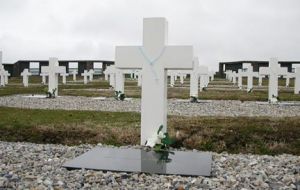 Ten Malvinas war veterans from Rio Gallegos are scheduled to visit the Falkland Islands next October 8, according to a report from "Tiempo Digital Sur" a digital newspaper from the capital of the Patagonian province of Santa Cruz.
The announcement was made by Enrique Fernando Alturria, President of the Malvinas War Veterans Centre Private Jose Honorio Ortega.
"A first group of ten veterans will be flying next October 8. They are mainly from Rio Gallegos but also from other locations in the province", said Alturria.
He said that the idea of having the Malvinas veterans fly to the Islands is a project which was born over a year ago following a chat with (provincial) cabinet secretary, Minister Gustavo Martínez.
"We told him (Martinez) about our project and asked about what chances for the province to finance the trip to those Malvinas war veterans who would like to go again to the Islands, because we know that some of them are not yet prepared", said Alturria.
Sometime last December "Martinez rang me up and told me he had talked it over with the governor and he had said it was a good idea".
Alturria added that for the "war veteran that can't travel, there's a chance for his son to go so he can see where his father fought".
The Veterans centre president said the ideal time to visit Malvinas is in October or March, "because now it's all covered in snow; winter was rather late this year".
Finally Alturria said that the logistics, transport and housing will be the responsibility of Sebastián, "an Argentina who married a local and who is responsible for the maintenance and upkeep of the Argentine cemetery".