US weekly jobless claims up; fears of slowdown conditions labour market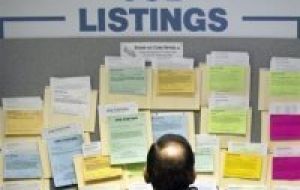 Initial US weekly jobless claims surged to 417,000 last week, dimming hopes of an imminent recovery in the jobs market, the US Labour Department said Thursday.
New claims for unemployment insurance rose in the week to August 20 from a revised 412,000 the previous week, well above the four-week moving average of 407,500.
The department said that for the week to August 6, the total number of people claiming unemployment benefits at all levels fell to 7.29 million from 7.34 million the week earlier, and 10.16 million a year earlier.
The US overall unemployment rate remained at a high 9.1% in July, with nearly 14 million workers without jobs. Nineteen US states and territories reported an increase in claims, while 34 reported a decline. These data are reported with a one-week lag.
Initial jobless claims reflect weekly firings and tend to fall as job growth -- measured by the monthly non-farm payrolls report -- accelerates. Mass layoff announcements have increased in recent weeks as companies brace for a possible extended slowdown in economic growth.
The weak labour market and concerns over slowing growth and falling asset prices will be foremost on the minds of central bankers and policy makers this weekend when they meet at the Federal Reserve's annual symposium in Jackson Hole, Wyoming.