Further turbulence for embattled President Rousseff: this time two blondes
Saturday, August 27th 2011 - 07:12 UTC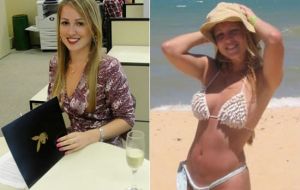 Two further headaches for embattled Brazilian president Dilma Rousseff who in eight months of government has seen four ministers and two deputy ministers step down under serious suspicions of corruption.

This time the case involves two women, both blondes, one named by her as cabinet chief, Gleisi Hoffman and the other the sister in law of Vice President Michel Temer.

Ms Hoffman who also happens to be the wife of President Rousseff's Communications minister Paulo Bernardo, has been accused of claiming redundancy compensation after she left her post at the board of the huge Itaipú hydroelectric complex, which supplies Brazil with 20% of its power.

According to Folha de Sao Paulo, Ms Hoffman in 2010 collected the equivalent of 33.000 dollars when she left her Itaipú post to run for a Senate bench in representation of the ruling Workers Party.

"Payment is illegal since redundancy compensation is only viable when a staff member is sacked for no apparent reason", pointed out Folha de Sao Paulo. Furthermore she occupied a political designated post in the bi-national Itaipú board which is shared with neighbouring Paraguay.

Ms Gleisi is considered one of the closets ministers to President Rousseff and became cabinet chief when Antonio Palocci had to leave after admitting to have received 10 million dollars from private corporations for 'consultancy contracts'.

Rousseff reacted to the media reports, where all the corruption claims have been leaked, saying that her administration's priority is the social inclusion agenda and emphasized she is not obsessed with removing ministers.

"This is not the Roman Empire where the accused were thrown to the lions", she stated in reference to the ongoing press reports, which have forced the demise of several top officials.

One of them, Defence minister Nelson Jobim had to step down because he described Ms Gleisi as a "weakling" for the job of cabinet chief plus the fact she "doesn't know her way around Brasilia". Jobim who is also a former Supreme Court magistrate said he felt "surrounded by idiots" and was pleased to leave.

Nevertheless O Estado de Sao Paulo speculates that two other cabinet ministers, Cities and Tourism are targeted to step down in the near future following on serious media reports.

In a lighter note compared to the political whirlwind, it was announced that the sister in law of Vice President Michel Temer, will be the front page of Brazil's Playboy next edition and most probably October's bunny.

Fernanda Tedeschi, 28, a former air stewardess has signed the contract for nude pictures for the October edition, which is already anticipated will be considered a "collection edition".

Her sister, Marcela, also known as the Carla Bruni of Brazil, is married to Temer who doubles her age. On inauguration day last January, the spectacular blonde and Brazil's second Lady was a magnet for the local and international press.

The only relief, if any, is that Marcela's husband is head of the PMDB, which is the Workers party main ally in the ruling coalition that supports President Dilma Rousseff.